Keira Knightley is known mainly for her impressive acting abilities and her tendency towards dramatic period films (sometimes it seems like she wears corsets exclusively). But in the December issue of Allure, the British actress spends a lot of time discussing another personal asset: her breasts.
On the topic of nudity in her movies, Knightley tells Allure, "I'm quite rigorous about what gets exposed... No bottom half! I don't mind exposing my tits because they're so small -- people really aren't that interested!" She also notes that her small cup size causes production teams to get a bit... creative:
"They always pencil in my boobs. I was only angry when they were really droopy. For 'King Arthur,' for a poster, they gave me these really strange droopy tits…. I thought, well if you're going to make me fantasy breasts, at least make perky breasts."
All the chest talk makes sense, given how topless Keira is for the Allure shoot. Snapped by Mario Testino, one photos shows Keira in an open Chanel jacket with nothing underneath and another with nothing covering her top but a strategically placed drinking glass.
But it's a tad ironic: don't these pictures seem to be altered, too? We're sensing a case of "invisible nipples" on the cover, i.e. nipples that have suddenly disappeared with a touch of Photoshop (like this). Got to keep things appropriate, we suppose...
The December issue of Allure hits newsstands November 20, but you can catch a sneak peek below.
PHOTOS: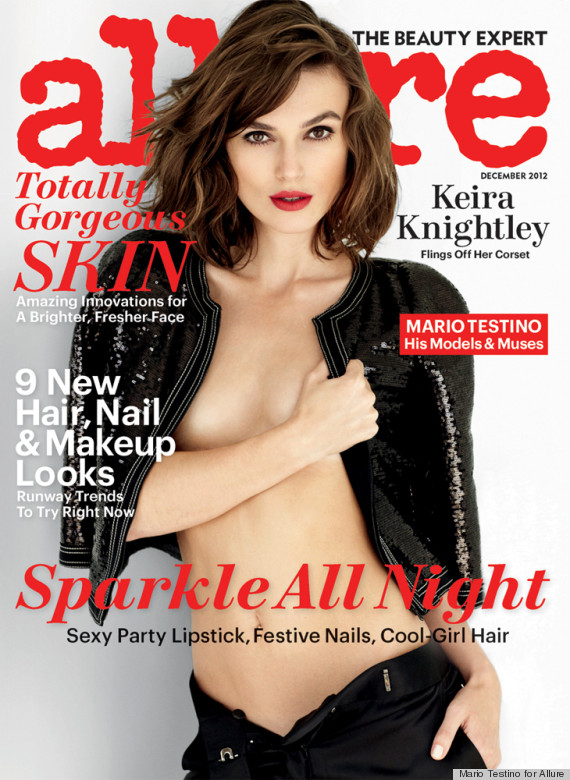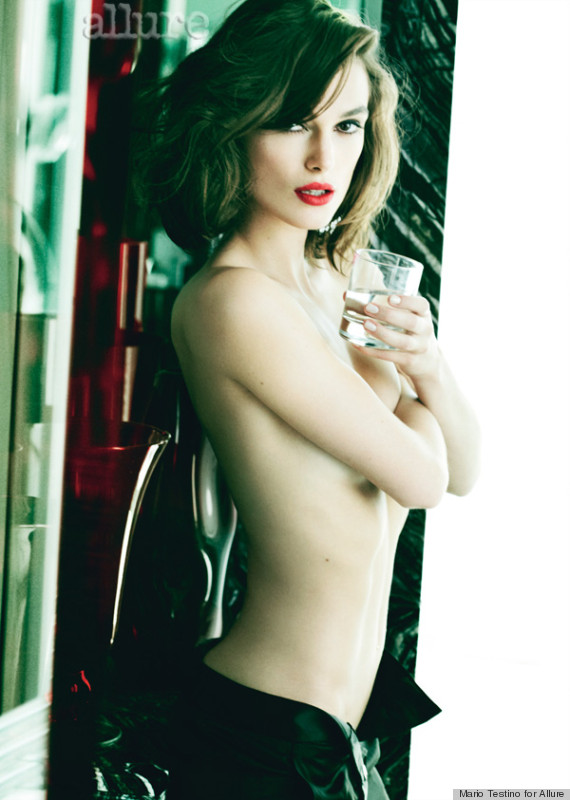 More airbrushing at work:
PHOTO GALLERY
Invisible Nipples
Want more? Be sure to check out HuffPost Style on Twitter, Facebook, Tumblr and Pinterest.