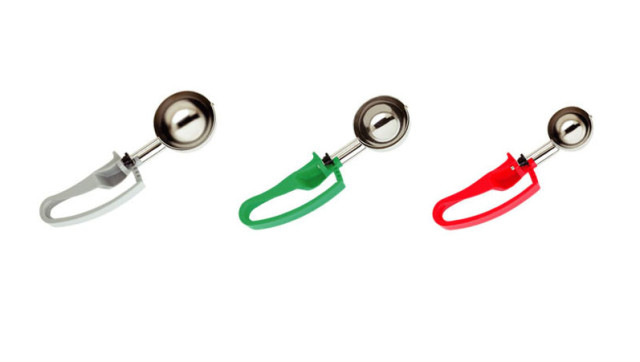 Come Thanksgiving, portion control is a problem for even the most disciplined eaters. With so many good options on the table, we're pretty much expected to loosen our belt and get up for a second plate. But if you're one of the many who want to keep things under control this holiday of feasting -- or if you've ever dreamed of working in a cafeteria -- the Zeroll EZ Disher is just what you're looking for.
The Zeroll EZ Dishers, which is traditionally used in the food service industry for uniformed servings, is now being marketed for Thanksgiving day portion control. Each scoop equals a different measurement, from a 1/4 to a full cup, allowing you to control how much of what you heap on your plate..
We know what you're thinking: couldn't you just use your measuring cups or your ice cream scoop to do this? Well, yes, yes you could. But Zeroll does stress that the dishers come in 13 different sizes with no springs to replace!
Want to read more from HuffPost Taste? Follow us on Twitter, Facebook, Pinterest and Tumblr.
Feel like eating healthy? Try these breakfast recipes.
PHOTO GALLERY
Healthy & Warming Breakfast Recipes
BEFORE YOU GO