Despite her recent split from longtime beau Justin Bieber, Selena Gomez had plenty to smile about at the 2012 Glamour Women of the Year Awards Monday night.
Gomez, who graces the magazine's December issue, was honored for her work in TV, film, fashion and music, and her service as the youngest-ever U.S. ambassador for UNICEF.
Gomez's "Getaway" co-star Ethan Hawke presented the 20-year-old star with the Independent Spirit award. In her emotional acceptance speech, Gomez told the audience:
"Thank you so much. I am so honored to be in a room full of women that I can only aspire to be as good as they are one day. I feel so lucky that every day I get to work with interesting people that are way smarter than me, and have taught me so much, like Ethan. I just want to share to all the girls out there that you have a voice, that you have a chance to do what you love, whether that is acting or singing. And just being true to who you are. The person that's taught me that better than anyone is my mom. She is so strong and beautiful and has taught me everything, so thank you. Thank you Glamour, and Ethan and Cindi [Leive, Glamour's editor-in-chief]. This is really something I'll never forget."
Before the ceremony, Olympic gold medalist Gabby Douglas, who previously cited the Gomez track "Who Say?" as inspiration, told The Huffington Post that she was a longtime fan of Gomez.
"I remember watching her TV show, 'Wizards of Waverly Place,' and she was so funny, so hilarious," said Douglas, also one of the evening's honorees. "She really grows on me and just kind of rubbed off on me, with her personality. I listened to her every single day at the Olympics--I love her songs."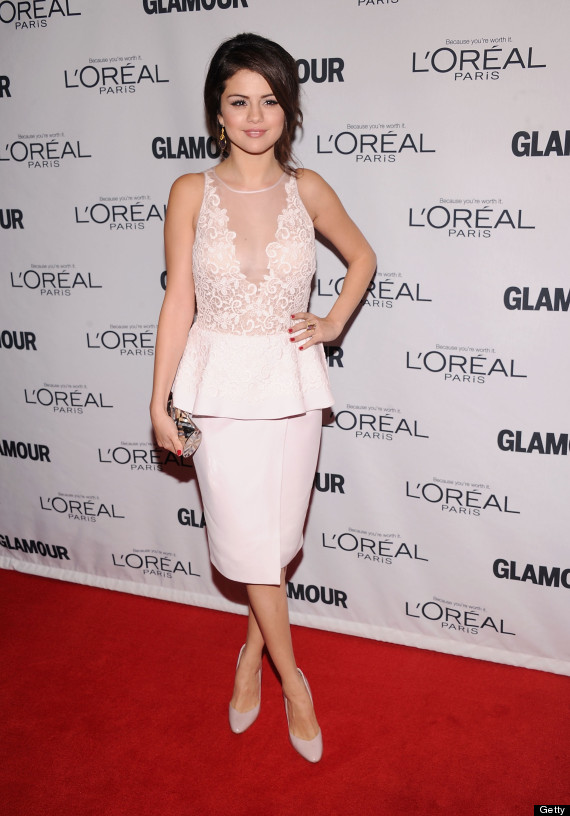 BEFORE YOU GO
PHOTO GALLERY
Selena Gomez Photos