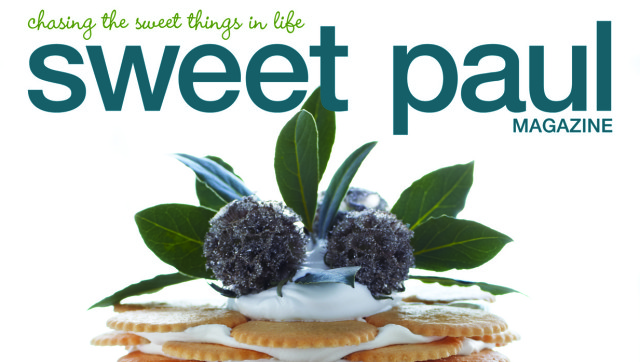 You might remember the brilliant and adorable minds of Noah Fecks and Paul Wagtouicz from their unflappable commitment to cooking all the way through Gourmet magazine. Their site dedicated to chronicling that journey, The Way We Ate, is one of our favorite places to hang out for vintage advertisements, recipes and gorgeous photos. When we heard that these two were turning the blog into a book earlier this year, we knew we'd better keep them close so that we wouldn't miss whatever fantastic thing they were doing next.
We're feeling pretty proud of ourselves after learning about their latest partnership with Sweet Paul magazine. This lovely food and lifestyle magazine is set to publish the online version of their holiday issue on November 15th, and can you guess what's inside? A vintage-inspired holiday menu from none other than The Way We Ate. We asked Fecks and Wagtouicz to tell us a bit about the endeavor and (surprise, surprise) they had something lovely to say.
When Sweet Paul invited us to guest curate and photograph a vintage holiday feast for the Winter issue, we leapt. Longtime fans of editor-in-chief/creative-wunderkind Paul Lowe and his stunning magazine, we took to this collaboration like pilgrims to pie. We're no strangers to cooking from a bygone era, however this was the first time someone asked us to develop our own recipes to share with their readers.

So, this meal started in the library, researching menus and historical context from Post-World War II America, before we ever set foot in the kitchen. What were the concerns of the typical 40s household in the wake of wartime and rationing, and how did the family come together to make the most of what they had on hand? We're fortunate to live and cook in a time of bounty where the challenge of limited ingredients is artificially imposed on television chefs as a form of entertainment. This project afforded us another perspective on that concept, a very real one: the vantage of the family cook in 1947.
Since we pretty much couldn't wait to share the incredible recipe spread with you all, we managed to get our hands on four exclusive recipes that you won't find in the issue, just to give you a taste of what you can expect. We absolutely can't wait to try the recipes from the Sweet Paul feature, but in the meantime, we've got some Kir Royales to sip.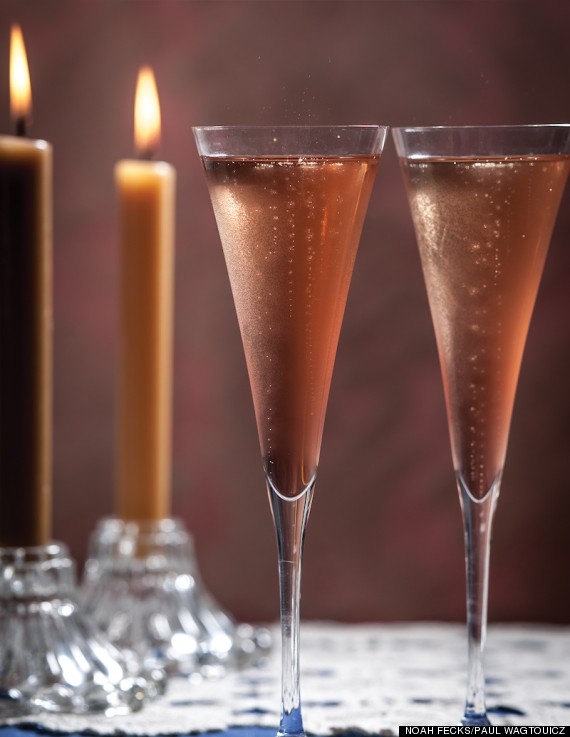 Kir Royale Champagne Cocktail
6 oz. champagne 1/2 oz. crème de cassis
Pour crème de cassis in a champagne flute and top with champagne.
Makes 1 Cocktail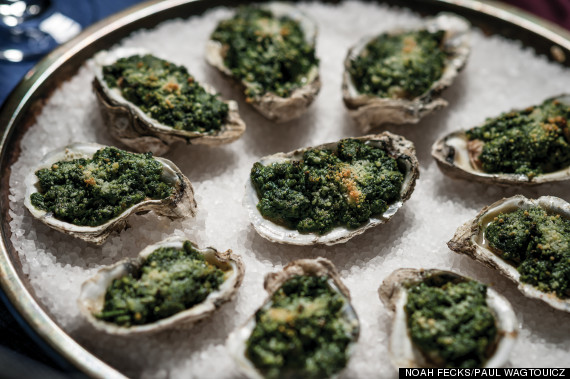 Oysters Rockefeller
1 dozen oysters, scrubbed well, on the half shell
1 cup firmly packed fresh spinach, finely chopped
1/2 cup firmly packed watercress, finely chopped
1 tablespoon parsley, finely chopped
2 tablespoons butter
1 clove garlic, minced
3/4 teaspoon Pernod
2 tablespoons grated parmesan
3 tablespoons fine bread crumbs
salt and pepper
course salt
Toss together spinach, watercress and parsley with 3/4 tablespoon bread crumbs.
Melt butter in a skillet, add the garlic and spinach mixture and cook until greens are wilted.
Remove from heat, add Pernod and salt and pepper to taste. Chill until cool.
Preheat oven to 450°F.
Line a 1-inch deep baking pan with course salt and arrange the oysters on top.
Spoon spinach mixture onto oysters.
Toss remaining bread crumbs with parmesan and sprinkle on top of each oyster.
Dot with butter and sprinkle with reserved parmesan and ground pepper.
Bake until browned, about 10 minutes.
Serve hot, Makes 12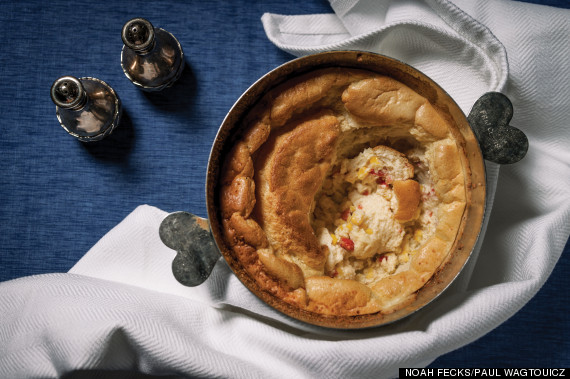 Corn Soufflé
2 Cups Fresh or Frozen Corn Kernels at Room Temperature
3 Tablespoons Butter, softened
2 Tablespoons All-Purpose Flour
3/4 Cup Whole Milk at Room Temperature
4 large Egg Yolks at Room Temperature
5 large Egg Whites at Room Temperature
1/2 Teaspoon Kosher Salt
1/8 Teaspoon Fresh Ground Black Pepper
1/4 Cup Finely Diced Shallots or scallions
1/4 Cup Finely Diced roasted red pepper (fresh or well drained jarred)
Pass corn through a food mill fitted with the finest disc, reserving pulp and discarding corn skins.
Using 1 tablespoon of the butter, grease well a 2 quart charlotte mold or ceramic soufflé mold. Using remain butter sauté shallots or onions over medium heat until soft. Add flour and stir over low heat for 2 minutes stirring constantly. Add milk all at once and cook 3 minutes more stirring constantly.
Remove from heat and add red peppers, black pepper, salt, corn pulp and egg yolks. Combine well.
In a separate bowl, beat egg whites with a pinch of salt until they hold stiff peaks. Gently fold whites into mixture and pour entire mixture into buttered mold and bake in a preheated 350 degree oven for 30 minutes, undisturbed.
Bake for another 10-15 minutes. Soufflé is done when a long knife inserted in center comes out of the soufflé clean.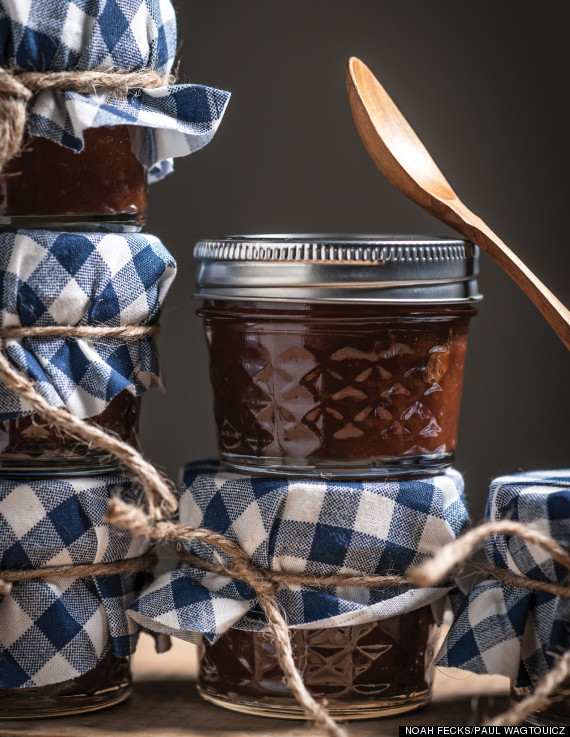 Apple Butter
12 Pounds Sweet Apples (unpeeled, cored, and coarsely chopped)
4 Cups Water, Apple Juice or Cider
4 Cinnamon Sticks
1/2 Teaspoon Salt
Juice of 1 Lemon, Strained
1 Cup Dark Brown Sugar Firmly Packed
2 Tablespoons Cognac or Brandy (optional)
1 Teaspoon powdered cloves (optional)
Boil apples, water or juice and Cinnamon sticks, covered, over a medium heat in a large oven safe dutch oven (enameled cast iron preferred) until very soft (1/2 hour to 1 hour).
Remove from heat to cool slightly and ladle apples into food mill fitted with the finest disc and process apples (Cinnamon sticks removed and discarded) until all apple flesh passes through. Discard skins.
Return apple sauce to dutch oven, add remaining ingredients and combine. Place in a preheated 300 degree oven, Uncovered, for 2-3 hours, Stirring every half hour until dark amber and thick.
Spoon hot sauce into 10-12 sterilized 4 ounce jars, leaving 1/4" head space, seal and process in a hot water canning bath for 10 minutes, or as directed by manufacturer. (1 pound of apples reduces to approximately 4 ounces, depending on coring & cooking method)
*To give your jars a decorative cover, clip any fabric into a circle, two inches larger than diameter of jar lid. Tie with a length of twine or cotton kitchen string.
If you, like us, just can't get enough of The Way We Ate, be sure to keep your eyes peeled for their upcoming book looking at the American century in recipes, published by Touchstone, in fall 2013.
Want to read more from HuffPost Taste? Follow us on Twitter, Facebook, Pinterest and Tumblr.
BEFORE YOU GO
PHOTO GALLERY
Weird Vintage Recipes