A U.S. citizen who allegedly joined a terrorist group in Somalia and a man from the Philippines accused of kidnapping an American in 1993 are the newest additions to the FBI's list of most wanted terrorists.
Alabama native Omar Shafik Hammami eluded law enforcement authorities, who issued a warrant for his arrest on terrorism charges in 2007. The FBI claims that as early as 2006 Hammami, 28, provided assistance to al-Shabaab, a militant group that the Department of State calls a terrorist organization. He reportedly went to Somalia in 2007 to fight invading Ethiopian forces. It's believed that Hammami -- who uses the alias Abu Mansour al-Amriki -- remains in Somalia as a leader in al-Shabaab.
To some, Hammami is the rapping jihadi who's released six hip hop songs with extremist lyrics, according to ABC News. He released two a cappella tunes in 2011, including "Send Me A Cruise," in which he begs to be killed by a cruise missile or other attack like some of his martyred heroes.
Following the Osama bin Laden's assassination by a special U.S. Force in Pakistan last year, Hammami spoke out, threatening to get revenge on the United States and American interests, according to the Associated Press.
The second alleged terrorist named by the FBI today is Raddulan Sahiron. The bureau placed him on the most wanted terrorists list, which was created shortly after the 9/11 attacks, because of his alleged involvement in the abduction of an American in 1993. The FBI claims that Sahiron was involved with the 14 armed men who held the hostage for 23 day in the Abu Sayyaf Group's remote jungle camp.
In 2005, Sahiron became the leader of the group, which the State Department labeled a terrorist organization in 1997. Sahiron was indicted in 2007 on federal charges of hostage taking and aiding and abetting and causing an act to be done. It's believed that he's on the island of Sulu in the southern Philippines.
Raddulan Sahiron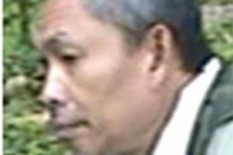 BEFORE YOU GO
PHOTO GALLERY
FBI's Ten Most Wanted