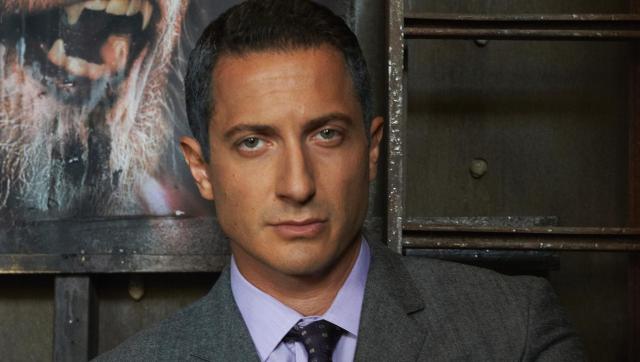 "Grimm"'s Captain Renard has been behaving very strangely these past several episodes. Sasha Roiz, who plays Renard, says it's about to get a whole lot stranger during this Friday's episode as Renard's world spins completely out of control.
This season, we've already discovered that Renard is the bastard son of a royal -- and half Hexenbiest! To top it all off, he's become obsessed with Nick's girlfriend, Juliette, and apparently coaxed her out of her coma with a kiss. We can't imagine what could possibly surprise us at this point, but Roiz says we're still in for plenty of surprises during the next ep, which is a cliffhanger leading into February's midseason opener.
For the uninitiated, "Grimm" is a fantasy police procedural show that follows Portland detective Nick Burkhardt (David Giuntoli). Nick is a Grimm, which means he can see supernatural creatures inspired by Grimms' Fairy Tales (Wesen), and is responsible for maintaining balance between them and the human world. Captain Renard is Nick's not-so-average boss.
Renard called us from Portland, where he's shooting the season's last few episodes of "Grimm," to chat about what makes Renard tick, what's up with him and Juliette and his fun guest spot on "It's Always Sunny in Philadelphia."
"Grimm" has proven to be quite popular. Why do you think people like it so much?
There seems to be a real taste for the fantastical these days. People like to get back into their imaginations. Maybe there's something a little nostalgic about "Grimm" and the fairy tales that they grew up with. And it's a very unique approach to the procedural side of things.
What kind of feedback have you been getting from fans?
Fans tend to be very enthusiastic. There's no room for apathy. They seem to get on board completely and be tremendously invested in the show, which is really fun to see.
Captain Renard is a pretty complex character, and audiences aren't always sure what to make of him. How do you see him?
The next two episodes (12 and 13) are two very substantial episodes where everything is revealed about him -- not just to the audience, but to the other characters. It's going to be a very dynamic two-part episode. I see him as someone who's been basically living on a certain fringe. As we've seen, he's a bastard child of a royal, and has been pariahed in his world and has had to go out and make a name for himself. He's someone who's very set out to accomplish what he's been out to do and he'll stop at nothing to achieve it.
So do you see him as a good guy?
I don't really judge the characters. You just take it episode-to-episode and situation-to-situation. I think he's just got a lot on his plate. He's got a complicated life. He's just a man who's got far too much on his plate, and it's been over-complicated by this obsession that he has with Juliette. I think it's more than he can handle at this point, and it's all going to unravel and spin out of control in these next two episodes.
Will we find out more about what's going on with him and Juliette?
Very much. Everything comes to a head, basically. It's going to be very fun to watch this man who's been in complete control completely lose all control and unravel.
Can you tell us any more about what to expect in the next few episodes?
Well the next episode is a cliffhanger that leads us off into next year. It's really a coming to a head of all the storylines you've been watching for the last 30-something episodes. They all intersect and come reeling into one another. It's going to be absolutely incredible. Some huge reveals occur.
What's the dynamic like on set?
We're the best of friends. It's a rare treat. We find ourselves all sequestered up here in Portland and it's been an absolute pleasure because we've become a little family. We hang out together all the time. There's constantly someone to do something with. Last night I saw Bitsie [Tulluch, who plays Juliette] at a concert, and the day before we all went out to a Portland Trail Blazers game.
I know you've done everything from comedy to sci fi to drama. Do you have a favorite genre?
No. It's always a lot of fun. I think if you do a lot of one thing you wind up craving the other. So right now playing this very heavy character makes me want to go back to comedy and tell poop jokes or something to offset all of this seriousness. [Laughs] But I think there's a really great balance on this show and that's part of its success for sure.
What was it like doing a guest spot on "It's Always Sunny in Philadelphia"?
That was great. It's one of the few shows I really watch and love. I'm a big fan of those guys. I think they do a great job, so it was a real treat to be a part of that show. It was less crazy than you might imagine. There's not a lot of improvising, nothing is out of control. They know exactly what they're doing, they're highly professional guys. The scripts are pretty close to what it is that you get in the final product. I was really impressed. They run a tight ship. It's quite clear why they're as successful as they are.
Grimm airs Fridays on CTV in Canada and NBC in the US at 9 p.m. ET/8 p.m. CT.
PHOTO GALLERY
"Grimm" Season 2 Photos
BEFORE YOU GO