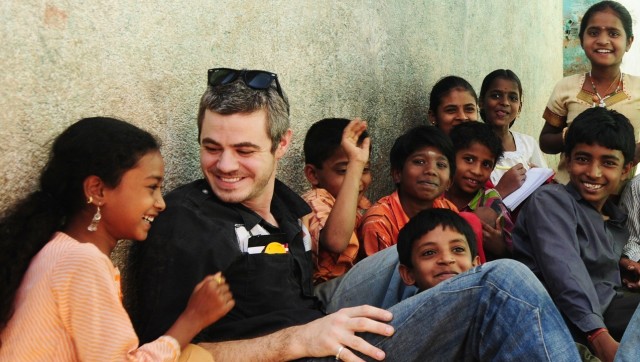 In partnership with the Social Innovation Summit, we're running a weekly series called 5x5x5 -- 5 Leaders, 5 Sectors, 5 Questions. Five guests from a variety of sectors will answer questions on how technology and innovation can be used for social good.
Our latest installment features photographer and entrepeneur Scott Harrison in conversation with Brian Sirgutz, Senior Vice President -- Social Impact at the Huffington Post. We asked Harrison about design, blessings in disguise and his nonprofit charity: water -- a crowdfunded solution to the water crisis.
Brian: You just spoke at The Media Tech Summit here in New York City. When you started charity: water, did you ever think that you would be speaking at a technology conference? How did digital help build charity: water into a global brand?
Scott: We were fortunate to start charity: water at a time in our history when technology is connecting people like never before. Technology allows our team to stay lean and efficient but also have a wide reach and impact. My life changed when I traveled to Liberia and saw the need for clean water firsthand. That's not possible for most of us, however, so we try hard to connect our supporters to the need, bringing it to their living rooms or mobile devices. Using photos, GPS coordinates and videos, we seek to show supporters the real impact their dollars are having out in the field and bring inspiring stories to life.
We've always been more like a startup than a charity, and since introducing our online fundraising platform in 2009, we've consistently raised 70 percent of our funding for water projects online. It's where the majority of our supporters live and spend their time. We target our campaigns to reach our incredible army of fundraisers, then give them the social media tools to connect with their communities. Since we have no marketing budget, our team instead produces beautiful and inspiring videos that our supporters can easily post on Facebook to share our work with their friends and families. This online word of mouth movement is powered by storytelling.
Brian: How does technology and design help charity: water mobilize people around the issue of clean water?
Scott: Creating an epic brand to end the water crisis has been our vision from the beginning. When we started, there just weren't any nonprofit brands that resonated with me. But I was inspired by Apple, Nike and a few others. I often quote Nick Kristof, who wrote in the New York Times that "Toothpaste is peddled with far more sophistication than the lifesaving work of aid groups." That seemed broken, so I set out to change that dynamic.
Designs allows us to make a complicated issue, such as the water crisis, simple and accessible. We created an online film called 'Water Changes Everything' that explains the areas of life affected by the water crisis, such as health, education and economy. It's simple enough to be used in schools and has been viewed nearly 300,000 times and translated to nine different languages.
Brian: How is technology able to help nonprofits yield more trust and support from donors? How can people use the charity: water platform to see progress around the world and how projects are going?
Scott: Technology has connected us with donors in ways we never would have dreamed. When we were just getting started six years ago, I went out and bought a few handheld GPS devices at an electronics store. We took them with us to Uganda and turned them on as we stood next to our first completed water projects. Then, we put that information online for the donors to see. That connection was important for us: "Your money didn't go into a black hole. It went right here. See for yourself!"
As we scaled, we sent hundreds of cameras and GPS devices to the field and trained our local partners to use them to develop more comprehensive reports. From the beginning, we've located every water project we've funded -- something even larger, more established NGOs weren't doing at the time.
Brian: Talk about the power of crowdfunding with charity: water. Let's take the Rachel Beckwith example. What does it take to get this many people to care about water and one girl's cause?
Scott: We believe deeply in generosity. We believe people want to connect, share and help others. And we do our best to help provide the cause, the platform and high accountability for the money raised. Rachel Beckwith was an extraordinary 9-year-old girl because despite her age, she felt compassion for a group of people she'd never met. She could understand the basic need and the simple steps to help others.
Her story was an emotional one that touched a lot of people's lives. I think it spread so wide -- the campaign raised $1.3 million through 30,000 donations worldwide -- because her birthday wish gave us a chance to connect and help others. And the transparency of our Dollars to Projects reporting system showed donors which communities in Ethiopia were helped by Rachel's gift.
Brian: What was the one mistake you made that ended up being a blessing?
Scott: One of them most widely shared stories in our history was about a Central African Republic (C.A.R.) village called Moale. We focused on C.A.R. for our annual September Campaign in 2010. After 10 years of waiting for clean water, we were determined to drill a deep water well in their community. We knew the inherent risks involved -- our drilling partner had failed twice in this community before with different equipment -- but we went forward anyway. As part of our biggest event of the campaign, we'd drill a water project live as our entire supporter base watched via satellite.
Unfortunately, the well collapsed multiple times in sand layers, and the drilling rig couldn't reach water. We had to leave the village without bringing them clean water. We failed, big time. But the failure was publicly shared via email, Facebook, Twitter and on The Huffington Post and other media sites. Instead of shying away from our failure, we faced the reality; working in developing areas can be challenging due to the complexities that arise. It ended up being one of our most discussed stories and revealing moments as a young startup charity. We made ourselves vulnerable in the process, and in doing so created strength.
We promised to go back, and we did -- with new drilling experts and a new mud pump. After 10 years of waiting, Moale finally got clean drinking water in the summer of the following year.
Check out the video below that serves as an example of the ways in which charity: water creates awareness around an issue.

BEFORE YOU GO