George Condo, an American painter who coined the term "Artificial Realism" and designed multiple covers for Kanye West's album, My Beautiful Dark Twisted Fantasy, was among a long list of record-breaking artists at Christie's Postwar and Contemporary Evening Sale last night. Condo's painting, "The Manhattan Strip Club," soared well beyond its estimated price, proving once again that the seedy East Village scene always has a place in Midtown's posh art quarters.
But just how much did the Condo go for, exactly?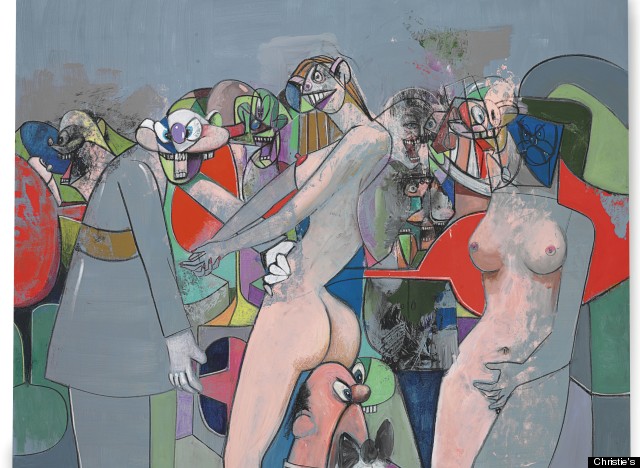 George Condo (B. 1957), The Manhattan Strip Club, signed and dated 'Condo 2010' (upper left) acrylic, charcoal and pastel on canvas, 75 x 95 in. (190.5 x 241.3 cm.) Painted in 2010. Estimate: $600,000-800,000.
The chaotic array of supple nudes and garish, grabbing men sold for a whopping $1.3 million, Christie's announced today. The impressive price tag is the highest ever for the New York-based painter, who is still alive to see his smut-inspired masterpiece turn heads at the prestigious auction house.
Condo is not exactly a stranger to the glitzier side of art, however. His pieces currently hang in well-known permanent collections at the Museum of Modern Art and the Metropolitan Museum of Art in Manhattan, and past auctions at Christie's and elsewhere have breached the million dollar mark.
So, readers, what do you think of Condo's big Christie's hit? Are you a fan of "The Manhattan Strip Club" or would you rather spend your millions on, say, an actual condo? Let us know in the comments section.
To check out what's on the horizon at Christie's, scroll through the slideshow of the upcoming auction, "Pop Culture," below.
PHOTO GALLERY
Christie's Pop Culture Sale
BEFORE YOU GO