Just a few days ago Max Galuppo was just a regular student at Temple University with a proclivity toward tie-dyed t-shirts. Now he is en route to uncovering a possible family connection to a bona fide nobleman.
Galuppo recently rose to viral fame on a visit to the Philadelphia Museum of Art when his girlfriend pointed out his uncanny resemblance to "Portrait of a Nobleman with Dueling Gauntlet." Galuppo posted a picture of himself in front of the 16th century painting on Reddit and it wasn't long before Good Morning America asked the 20-year-old student to return to the scene. In costume.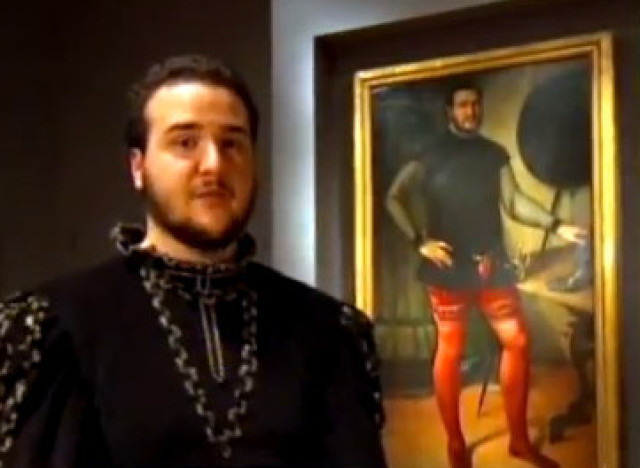 In the video below Galuppo dons a chic 16th century look — although we don't see a codpiece anywhere, which would really tie the whole outfit together. He says he plans to use Ancestry.com to explore whether the man in the painting -- which was made near Florence, Italy -- is in any way related to his Italian grandfather's family.
Watch the interview below and stay tuned for more updates on this Vertigo-esque scenario.
Do you have an art doppleganger? Email us at arts@huffingtonpost.com with a picture of you and your long-lost painted twin!
For some inspiration, check out this collection of celebrities and their art dopplegangers, courtesy of a Worth1000 photo competition.
PHOTO GALLERY
Modern Renaissance
BEFORE YOU GO