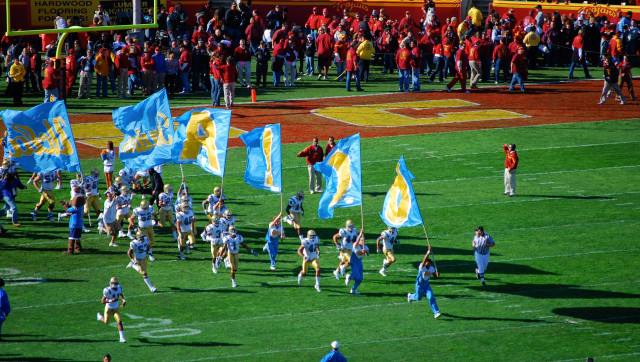 Was last week's UCLA prank on the University of Southern California this week a big lie?
UCLA and USC will square off in the Rose Bowl Stadium on Saturday, and the winner goes to the PAC-12 championship game. With the two campuses being rivals located only 12 miles from each other, it's pretty tempting to make the short trip across town to prank the other school.
[Story continues after the slideshow.]
PHOTO GALLERY
15 Of The Most Epic College Pranks
So it's entirely believable that if MIT students could turn a building into a giant tetris game, it wouldn't be hard to UCLA to spell out a big dig against the neighboring college using the lights of a dorm. But the photo making the rounds on internet is raising some suspicion, as the LAist blog notes:
First of all, we're guessing that if UCLA managed to pull off this prank in 2012, we'd be seeing multiple variations of the picture on Twitter/Tumblr/Facebook/whatever, but all we're seeing is the same shot from the same angle. Second, some at UCLA in this Reddit thread note that Sproul Hall is under construction, so this picture doesn't look current.
It's also exactly like a prank from 1977, where David Tilles and Matt Natalizio, both '77 graduates of UCLA, "helped organize an effort to let fans in Pauley Pavilion know what they thought of the visiting basketball team," as the Daily Bruin reported in 2006.
"F*CK 'SC" was spelled in the lights of Sproul Hall, which, if you look at the photo in the slideshow below, is basically the same as what we're seeing shared online this week.
Of course, these schools have a history of pranking each other, including on Twitter, a "dung drop," and painting the rival's statues. We're just not sure about the authenticity of this one.
Check out the photo of UCLA's questionabale prank on USC and some other notable hijinks from over the years in the slideshow below: