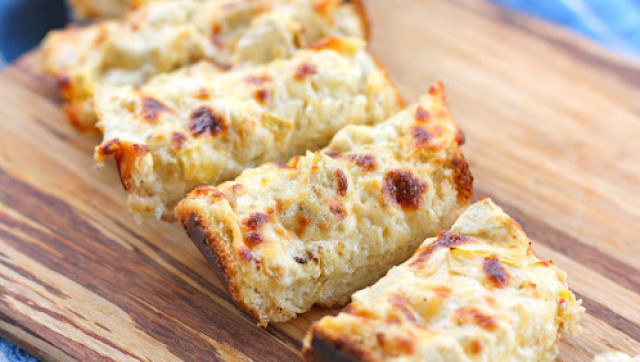 There are some dishes in this world that we will climb over tables for. These dishes usually inspire homey, comforting feelings. It's safe to say that if we like these dishes enough, we'll even eat mediocre versions of them and secretly enjoy them. The particular dish we're talking about today: artichoke dip. Sure, add spinach if you must. Water chestnuts? Why not -- go crazy. Just make it creamy, cheesy and let us eat it right away.
You can probably imagine the girlish shrieks that emanated from us when we stumbled upon this particular recipe from Christy Denney at The Girl Who Ate Everything -- she made Artichoke Bread. In what some might call an unholy union of artichoke dip and cheesy bread, Denney has brought together two things we didn't know needed each other. As a self-avowed "carbaholic," Denney has but one warning for us on this journey:
I halved the recipe thinking that there was no way my family could eat even half. So wrong. This is definitely an easy, inexpensive appetizer for a crowd.
We'd like to let our friends and family know that they will be eating this in the near future.
Get the Killer Artichoke Bread recipe from The Girl Who Ate Everything.
Want to read more from HuffPost Taste? Follow us on Twitter, Facebook, Pinterest and Tumblr.
BEFORE YOU GO
PHOTO GALLERY
For The Love Of Melted Cheese