Nobuyoshi Araki has made over 500 books during his long career as a photographer. His work has been called "vulgar" and "mischievous," but no subject epitomizes the controversy inherent in the Japanese icon quite like the photos included in his book, "Bondage."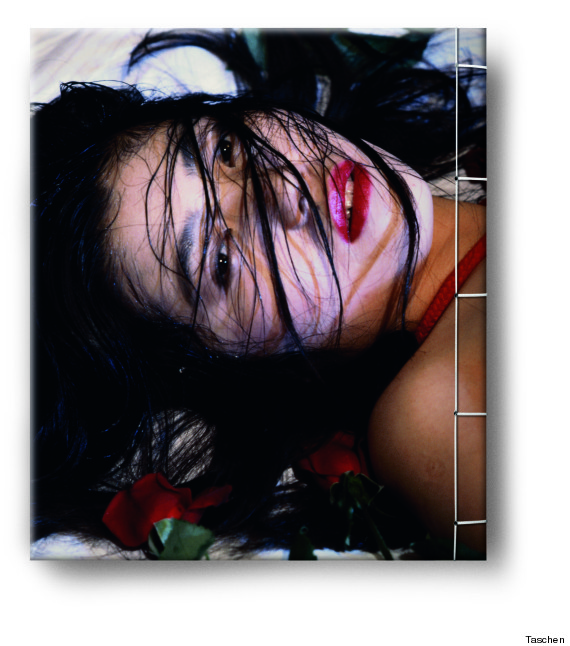 Kinbaku-bi, "the beauty of tight binding," draws off the complex relationship between pleasure and pain. Araki's homages to the form are overripe with eroticism, whether in a knowing look or a casual nude body suspended mid-air. The "permanent enfant terrible of the Japanese art world" once said, "To take a good photo of a woman, you have to sleep with her." Now in his 70s, Araki doesn't seem like he's going to clean up his sexually explicit photos anytime soon. He told VICE: "Once you give that up, you lose the strength to live." The images themselves may shock you, as may your reaction to them. Through striking color, emotive gazes and a delicate balance of beauty and violence, Araki seduces his viewers' eyes in order to betray their morals.
"Bondage" is a three-volume set of Araki's favorite bondage photographs, presented in a wooden box with, ahem, Japanese binding. Published by the ever-provocative Taschen, there are only 845 books available.
Since "Bondage" is a collector's edition, we can only feature a few of the NSFW selection of works included in the pricey book, which retails for $1,000. Take a look at the images below and let us know if Araki's controversial photos leave you bound to the screen.
PHOTO GALLERY
Noboyushi Araki (NSFW PHOTOS)
BEFORE YOU GO