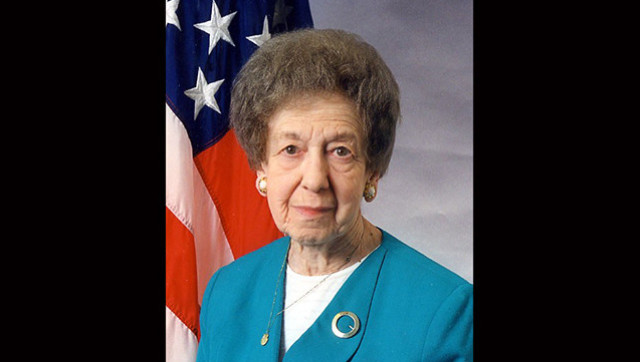 Mildred "Millie" Parsons seemed to never make a mistake.
Once he realized this, Parsons' boss, Nick Stames, began scanning her work for errors, waiting for her to slip. Seven months after he took over as the special agent in charge of the FBI's Washington Field Office, there it was.
A typo.
"Every time she gave me a memo, it was flawless," Stames said Friday in a phone interview.
A Frederick native, Parsons was the longest continually serving FBI employee in history, logging 62 years, nine months and two days before her retirement in 2002 when she was 88 years old, according to the bureau.
Parsons died Oct. 21 at age 99. Those who knew her remembered her as a consummate professional and a lady. She never once took a sick day in all those years. Maybe that's why she was so embarrassed by the typo, Stames said of his former secretary.
"I was in seventh heaven," he said.
Even after he left in 1979, Parsons remained friends with Stames and his wife, Norma, and would spend some weekends and holidays with his family in Springfield, Va. She would play dolls with his daughter, Vicki.
Known as Aunt "Ta" among her family, Parsons had no children. Her husband, Harry, died in the 1960s, said Parsons' niece, Barbara Farmer, of Walkersville. Farmer, 79, remembered childhood visits to the couple, who had settled in Takoma Park. They enjoyed traveling, Farmer said.
"I think they'd been to just about every state in the United States," she said.
Parsons grew up as one of three daughters to a single mother. Her father had left and gone to Pennsylvania, but Farmer does not know the circumstances. The family spent some time in Jefferson, she said.
Farmer was not sure what led her aunt to leave Frederick for Washington, but she said Parsons had won awards for her typing and shorthand in high school. She worked at Woodward & Lothrop department store before starting with the FBI on Sept. 25, 1939.
Farmer said she enjoyed visiting her aunt, who was a meticulous dresser. Parsons would open up her closet on occasion.
"That just made my day," Farmer said. "I wore them to work. I wasn't too proud. She was a good dresser."
Thomas Pickard, a former FBI acting director, remembered Parsons showing up to work in her customary dress on the day the office was moving; everyone else wore jeans.
Pickard met Parsons in 1978 when he was brought to Washington for an interview. When he returned as Parsons' boss from 1996 to 1997, she remembered him immediately, including his Social Security number and wife's name.
"I was taken aback," Pickard said in a telephone interview Friday.
Before the bureau hired women as agents, Parsons sometimes played a special role in an investigation, accompanying a male agent on a fact-finding mission, Pickard said.
"She was excited about it," Pickard said. "The role she had to play was always a lady. And she was a perfect lady."
Bob Harris, Parsons' trustee, met her about 15 years ago at an Arthur Murray dance studio. When he learned she was spending $50 on cab fare to get to the studio, he offered to begin driving her. A broken hip forced Parsons to give up her beloved ballroom dancing about three years ago, but she still kept her Thursday hair appointments, Harris said.
"She loved to be around people. She loved to be the center of attention. There was nothing stopping her from socializing, talking, listening," Harris said. "I used to joke with her about the FBI, and she was extremely close-mouthed."
Parsons kept a framed employment letter signed by former FBI Director J. Edgar Hoover in her apartment at the Leisure World retirement community in Silver Spring. She moved there after giving up her home in Takoma Park, Harris said. He helped her move and decorate her apartment.
"She never threw anything out," Harris said. "She had her first and all of her pay stubs from when she started working."
Hoover was like a god to Parsons, and she was proud to work for the agency, friends and family said. Parsons' loyalty helped to make Stames' career, he said.
"These are people that you can't replace," Stames said. "You can't replace a Millie Parsons." ___
(c)2012 The Frederick News-Post (Frederick, Md.)
Visit The Frederick News-Post (Frederick, Md.) at www.fredericknewspost.com
Distributed by MCT Information Services
BEFORE YOU GO