JERUSALEM, Nov 19 (Reuters) - Israel's assault on Gaza's rocket arsenals is aimed at countering what it sees as a growing strategic threat posed by Iranian-supplied missiles smuggled in through Egypt.
Though by the far the superior military power, Israel had been unable to stop the Palestinian rockets needling its southern towns over the past decade.
Since the latest flare-up of hostilities, rockets fired from Gaza have killed three Israelis, on top of a death toll of about 30 people since 2001.
The missiles, while a threat to the Israelis who live within range, are not precision-guided and sirens usually give people just enough warning to take cover before they hit. Others have been knocked down by Israel's Iron Dome interceptor system.
But among the Israelis' concerns is this: If they go to war against their arch-enemy Iran's nuclear programme, the Islamist Hamas-governed Gaza Strip could serve as a launch pad for the reprisals promised by Tehran.
By Monday, Israel said it had carried out 1,350 air strikes against Gaza arms caches and other sites. But the rocket fire persisted, hitting mostly within a 25-km (15 mile) radius.
"The Palestinian capabilities, we can assume, have been damaged, but they remain intact as a cycle of fire has been maintained," said Uzi Rubin, an Israeli missile expert.
That may reflect the priorities of Israel's targeting.
As with its 2006 offensive against Hezbollah guerrillas in Lebanon, Israel's opening broadside in Gaza last Wednesday was against what it described as underground stores and silos of the longest-range guerrilla rockets hidden there.
The most powerful of these were Iranian-designed Fajr-5s, with 75 km (46 miles) ranges and 175 kg (385 lb) warheads capable of reaching Tel Aviv or Jerusalem.
At 6 metres (18 feet) in length, the Fajr-5s are hard to transport and conceal. The Israelis say Iran has been manufacturing them for Hamas, which brings them in through Sudan and the Egyptian Sinai, under whose desert frontier with Gaza there is a network of smuggling tunnels.
STRIPPED DOWN ROCKETS
Israeli security sources said around 20 of the Fajr-5s had been destroyed on the ground. Hamas has fired rockets at Tel Aviv four times since, though Israeli sources said some of those were less powerful variants on the Fajr, stripped of their weighty explosives for extra range and greater psychological effect.
One such example might have been the rocket Hamas fired on Friday at Jerusalem, which it called a homemade "Qassam M-75".
The Gaza arsenal is pyramid-like, with the Fajr-5s at the apex and shorter-ranged rockets stockpiled in greater numbers.
Before their current offensive, the Israelis spoke of Gaza having a total of 10,000 rockets and mortar bombs. Most of those rockets were homemade, with 15-km (10 miles) ranges and dubbed Qassams by Hamas though other factions use different names.
Gaza also had a quantity - in the lower thousands, according to Israel - of imported, Soviet-style Grad or Katyusha rockets with ranges of between 20 km and 40 km (12 miles and 25 miles).
Palestinians have fired more than 1,100 rockets and mortars since Wednesday, an Israeli military spokeswoman said. She did not say how many more had been bombed on the ground.
Many of the Gaza rockets are in buried launch tubes that have allowed them to be fired at Israel by remote control, sparing Palestinian guerrillas exposure to counter-strikes.
How Hamas members weather the assault will prove key to further fighting. Though the faction's overall military commander, Ahmed al-Jaabari, died in an Israeli missile strike that triggered this round of violence, Hamas has local squads in Gaza's towns and camps that can, to a degree, operate independently.
More than half of the 90 Palestinians killed in the clashes have been civilians, Gaza hospitals said. Israel has said a significant number of the dead were fighters, but has published the names of just three senior figures other than Jaabari.
Should Israel escalate to an invasion, its troops and tanks would have to contend with guerrillas in Hamas bunkers and trenches that still function, Israel Radio said on Monday.
Reuters correspondents in and around Gaza also report a relative absence of Israeli combat helicopters that could provide ground forces with close support - reflecting, possibly, Israel's fear of shoulder-fired anti-aircraft missiles that have been smuggled into Gaza from Libya since last year's civil war.
BEFORE YOU GO
Captions by Reuters
PHOTO GALLERY
Timeline: Israel And Hamas In Conflict
23/11/2012 05:31 GMT
Clinton Warned Netanyahu: Don't Punish Palestinians For U.N. Bid
From Haaretz:
U.S. Secretary of State Hillary Clinton warned Prime Minister Benjamin Netanyahu during her talks in Israel this week not to take any extreme actions in response to the Palestinian move in the United Nations for recognition as a non-member state. Clinton said such steps against the Palestinian Authority could bring about its collapse. The Palestinians are planning to ask the United Nations General Assembly to vote on upgrading its status from non-member entity on the symbolic date of November 29.

The day after the cease-fire with Hamas took effect, Israel is preparing for the next crisis with the Palestinians, which is scheduled for six days from now. November 29th is the anniversary of the United Nations vote on accepting the Partition Plan in 1947, which led to the founding of the Jewish Sate. It is also the United Nations' International Day of Solidarity with the Palestinian People.
Read more here.
23/11/2012 03:50 GMT
Report: U.S. Urges Israel Not To Build In E-1 Areas
From the Jerusalem Post:
Washington is urging Israel not to allow construction in the area known as E-1 between Jerusalem and Ma'aleh Adumim as a possible response to the Palestinian bid for statehood recognition next week at the UN, The Jerusalem Post has learned.

Building in E-1, which would create contiguity between Jerusalem and Ma'aleh Adumim to the northeast beyond the Green Line, is something various Israeli governments have long wanted to do, but which US opposition has prevented.
Read more here.
23/11/2012 00:01 GMT
Life In Gaza's Courtyards
The New York Times' Jodi Rudoren chronicles displays of pride and sacrifice:
Inside a courtyard, there are faded remnants of "Congratulations from the uncles," from the April wedding of a son of Ahmed al-Jabari, the commander of the Qassam Brigades, the military wing of Hamas, whose assassination last week was the beginning of the latest round of intense battle between Israel and the Gaza Strip.

On the wall outside, the colorful Arabic script reads "Welcome hajji, Abu Muhammad," a reference to Mr. Jabari's return from a pilgrimage to Mecca last month. Nearby, the freshest paint pronounces a message from the troops: "Rest in peace. The mission has been accomplished."
Read the full story at the New York Times.
22/11/2012 23:19 GMT
PHOTO: Egypt Tunnel Into Gaza
Egypt Tunnel into Gaza:
An underground tunnel connecting through which I got into Gaza from Egypt. Israel has repeatedly targeted the tunnel network, trying to hinder flow of goods and weapons into the strip. (Photo by Mosa'ab Elshamy via Flickr)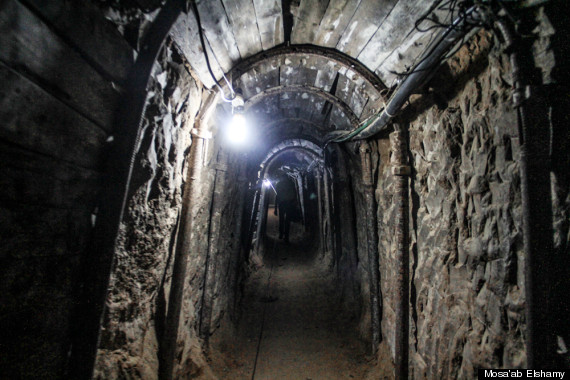 22/11/2012 22:55 GMT
Soldiers Show Frustration Via Viral Facebook Photo
16 soldiers spelled out 'loser' with their bodies to critique Netanyahu and show frustration at not going into battle.
22/11/2012 22:29 GMT
Who Brokered The Ceasefire
The Economist discusses how the ceasefire was achieved and whether it could lead to lasting peace in the region.
Among others coming and going were the UN secretary-general, the American secretary of state and the foreign ministers of Turkey and Germany. But the real bargaining took place behind closed doors at the headquarters of General Muhammad Shehata, Egypt's intelligence chief. There, in separate rooms, the Egyptians haggled with a legal adviser to the Israeli prime minister, and with representatives from Hamas, the Palestinian Islamist group that runs Gaza, and a smaller, more radical Palestinian faction, Islamic Jihad.
22/11/2012 21:22 GMT
Israeli Arab Arrested for Tel Aviv Bus Bombing
From the Associated Press:
JERUSALEM (AP) — Israel's army spokeswoman says an Israeli Arab who is a member of Hamas has been arrested for Wednesday's bus bombing in Tel Aviv.

The bombing injured 27 people near Israel's military headquarters and threatened to scuttle efforts to broker a cease-fire to end fighting between Israel and Gaza.

Israeli military spokeswoman Lt. Col. Avital Leibovich reported Thursday on Twitter that authorities had arrested the man who planted the bomb on the bus and identified him as an Arab Israeli from the village of Taybeh. She said he was a member of Hamas.
22/11/2012 20:41 GMT
Arrest Made In Tel Aviv Bus Bombing
22/11/2012 20:38 GMT
A Palestinian Boy A Palestinian boy and militants of the Izzedine Al-Qassam Brigades, the armed wing of Hamas, attend funerals of five Hamas militants in Mugharka village, central Gaza Strip, Thursday, Nov. 22, 2012. Five Hamas militants were killed in an Israeli air strike yesterday, Palestinian health officials said. (AP Photo/Adel Hana)
22/11/2012 20:28 GMT
Israel-Gaza Conflict Winners And Losers
While the cease-fire agreement between Israel and Gaza on Wednesday brought an end to the rockets and airstrikes, the political fallout is just beginning. The Associated Press offers a breakdown of who won and who lost as a result of the truce agreement:
Read the full story on HuffPost World.