Partying is nothing compared to motherhood.
At least that's how Nicole "Snooki" Polizzi feels.
The "Jersey Shore" star, 24, is "obsessed" with 2-month-old son Lorenzo and can't wait to celebrate the holidays with her little meatball.
"Motherhood is perfect!" Snooki told HuffPost Celebrity at MTV's Restore the Shore special on Nov. 15. "I always wanted to be a young mom and I thought [at] 26, and I'm going to be 25, so I kind of did it right. And it just changes your life," she continued. "I don't care about partying anymore. I haven't had a drink in, like, a year! Well, not that long, but I don't think about that stuff anymore. It's just about family and my business really."
And Snooki's fiance, Jionni LaValle, vouches for her lifestyle change, saying, "she's an unbelievable mother."
"She's obsessed with him, I'm obsessed ... it's two months already. It's crazy," LaValle told HuffPost Celebrity. "It's a lot of fun, but we're both very tired. We're always up taking turns, who's sleeping, who's feeding ... but it's what you got to do."
Although they're not sure whom Lorenzo takes after in the personality department, LaValle knows one thing for certain: "He looks just like Nicole. I mean to the T. It's crazy."
The happy family is looking forward to being together during the holiday season and already had a great time on Halloween.
"Halloween was canceled because of Sandy, so we just dressed up," Snooki explained. "We just put the costumes on and took a picture so we had a memory and we're going to tell Lorenzo there was a hurricane and you didn't have a first Halloween."
"We were superheroes," LaValle added. "He was Superman, I was Captain America and she was Wonder Woman."
As for Thanksgiving and Christmas, Snooki revealed they're going to spend the holidays in Jersey with LaValle's family.
"It's a first for everything," LaValle gushed. "Christmas, we can't wait for, Halloween we couldn't wait to dress him up. It's just you can't wait for everything to come up with him. Now it's, 'When is he going to walk? When is he going to talk?,' We're excited."
Snooki and Jionni plan on tying the knot in "a year, a year and a half."
See a photo of Snooki, Jionni and Lorenzo on Halloween below: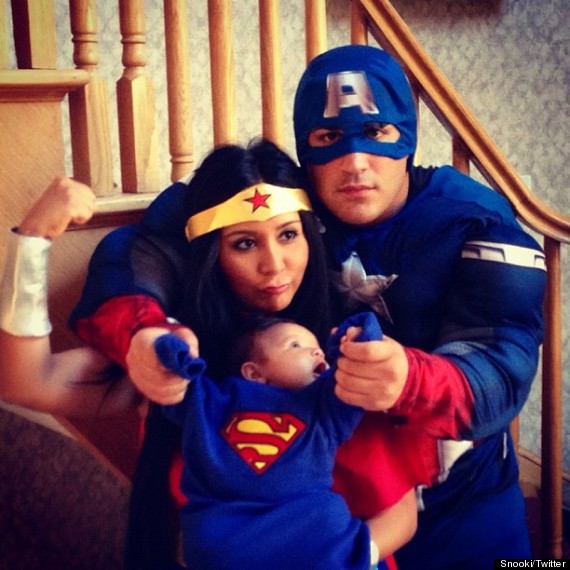 BEFORE YOU GO
PHOTO GALLERY
Snooki Over The Years