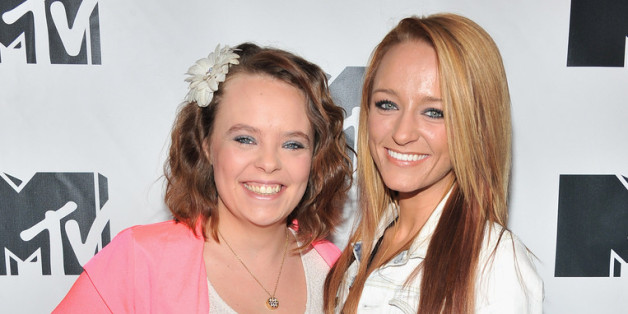 These days, our knowledge of celebrities too often originates with paparazzi images and snarky quotes by anonymous "insiders." After a while, it's easy to forget that stars are real people. That's why HuffPost Celebrity decided to launch its all-new #nofilter quick-fire question and answer series. Because how well do you know someone until they've shared their guiltiest pleasures?
"Teen Mom"stars Maci Bookout and Catelynn Lowell might have said goodbye to TV, but the MTV celebrities are taking over colleges and high schools to continue shining a light on teen parenthood, adoption and pregnancy prevention. But did you know they love to sing, have weird dreams about zombies and despise Kim Kardashian? Well, now you do.
HuffPost Celebrity: What's your guiltiest pleasure?
Maci Bookout: "Real Housewives" on Bravo.
Catelynn Lowell: I don't know if I have one, honestly. I'll have to pass on that one!
If you were on death row, what would your last meal be?
MB: A filet.
CL: I was going to say lobster!
How did you get on death row?
CL: Car accident, old age...
MB: Death row? That means you would have to like murder someone!
CL: Really? Oh my gosh, I would never murder anybody so I would never be on death row!
What shows are always on your DVR?
MB: "Suits"
CL: "Breaking Amish"
What's one thing you do when you're alone that you wouldn't do in front of someone else?
MB: Write ... Sing.
CL: Sing! I sing in my car or home alone.
If failure weren't an option, what's one thing you would do?
MB: If failure weren't an option? I don't think it really is an option.
CL: I don't think it's an option ... Honestly you know, I love to sing. I love it and I feel like maybe one day, but you never know.
MB: I want to be the president.
CL: Maci would be hitting that red button!
What's on your nightstand?
CL: A picture of me and Tyler [Baltierra].
MB: Yeah, a picture of me and Bentley [her son]. And like Bentley's toy cars.
CL: A picture of my Doberman too.
What would people be surprised to know you've never done?
CL: Skydived!
MB: Yeah, I've never skydived.
What happens in your recurring dream?
CL: Oh my gosh, do you want to know my crazy dreams lately? Ok, have you ever seen "The Walking Dead?" Ok, my brother just got me addicted to it. I watched three episodes in a row. Last night, I had a dream that I was fighting zombies and shooting them and I was running around all these rooms and locking myself in and my dog got bit by a zombie and turned into a dog zombie and bit me and then I woke up! Because I wanted to make sure my hand was still attached because in my dream, it wasn't!
MB: Catelynn knows one of my dreams that I'm not telling y'all, but I always have dreams of someone chasing me. Always. I looked it up, it means that I'm running from something and it says that in my dream I'm supposed to turn around and say, what do you want?
If you could ask Kim Kardashian any question, what would it be?
CL: Why does she bash us on Twitter all the time?
MB: That's a big no comment for me. I'd rather just ask her in person.
BEFORE YOU GO