Much has been made recently of the unsettling tendency of millionaire athletes to descend into bankruptcy, yet little attention is paid to the sports world's many successes.
One such rags-to-riches story is Andrew McCutchen, the Pittsburgh Pirates' franchise player who finished third in this year's MVP voting despite his incredibly humble beginnings.
On Monday, McCutchen tweeted a photo of himself standing in front of his childhood home in Bartow, Fla., proving that even a freshly signed six-year, $51.5 million contract isn't enough to make him forget where he came from.
come a long way since livin here...Thank you God for all youve done n my life. #Amen instagr.am/p/SOUy9djt_X/

— andrew mccutchen (@TheCUTCH22) November 19, 2012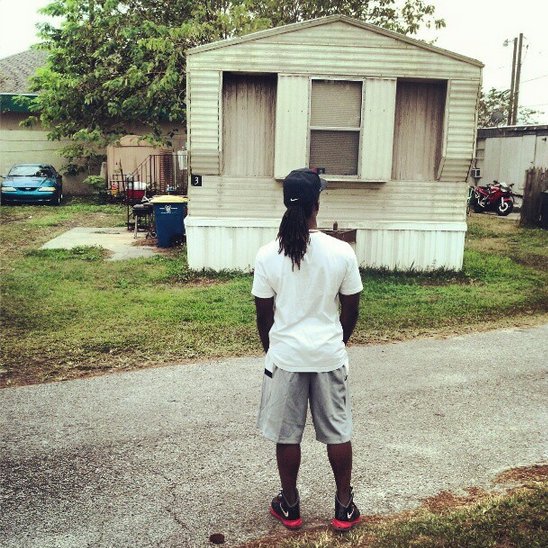 (Credit: @TheCUTCH22)
In a September interview with Sporting News, McCutchen described living in a trailer with his parents and baby sister as his young father worked in the phosphate mines and struggled to make ends meet. He said he drew motivation from his family's circumstances, learning the value of hard work and never taking anything for granted.
Despite his millions and national fame, McCutchen remains humble, making it a point to engage young fans and not take himself too seriously, the Ledger reports.
"I always want to remember where I came from and the good things in life," he told the Ledger. "I'm not going to forget what got me here."
Perhaps today's sports stars are learning from the mistakes of those who came before them. On Tuesday, New England Patriots defensive tackle Vince Wilfork tweeted a photo of himself clipping coupons in preparation for Thanksgiving, noting that saving money is smart no matter how many millions you're worth.
Haha RT @mrs75: Clipping coupons for Holiday shopping instagr.am/p/SQO9CiI13S/

— Vince Wilfork (@wilfork75) November 20, 2012
Not enough to spend foolishly RT @lennyjohnshow: @wilfork75 How much do you make again Vince?

— Vince Wilfork (@wilfork75) November 20, 2012
BEFORE YOU GO