Nobody really wants to spend their time cleaning, doing laundry or other household chores, but keeping up a clean house over the course of a week is better than waiting to tackle it all at once. Another term for this is the "Swiss Cheese" method, because it's all about punching small holes when you have a spare minute. So round up the family and rely on an all-hands approach to add some family fun and cut time in half.
Play a fun game right before dinner to make use of spare time and get the kids involved. Ask the kids to round up all the trash bins in the house and bring them to the kitchen. Whoever gets the most baskets in under a minute wins! Spending an extra 60 seconds now can save much more time later.
Turn laundry into a treasure hunt and you'll have no shortage of helpers. Families go through load after load of laundry in any given week. Try hiding small gifts around the house in laundry baskets, bedrooms, bathrooms and the laundry room. By the time all the treasure has been found your laundry should be organized and ready for the wash. It's also a great chance to practice your colors.
Always keep detergent, irons and other key items in the same spot in the laundry room (no more "I can't find it" excuses) and use a Bounce Dryer Bar to make sure no one forgets to add the dryer sheet. It's all the freshness of Bounce sheets in bar form. The bar stays in your dryer, keeping every load fresh and smelling new.
Give kids ownership of a certain task. For example, have your child own recycling in the house. Take the time to create a recycling station together. Break out the markers, boxes and even glitter to decorate the plastic, paper and tin containers. Giving your child this responsibility allows them to feel they are contributing to the family in a big way. Create a rewards system to keep them focused on a specific goal.
Turn up the tunes! Throw on some music to lighten the mood. A few dance moves while sweeping or mopping will have you distracted in no time. Before you know it, every floor in the house will be clean and you'll burn a few calories too!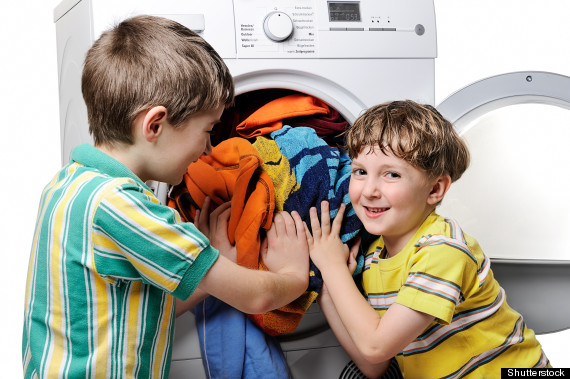 Have more tips on efficient and fun cleaning around the house?
Share them with us in the comments section — because less time cleaning means more time living life.