By Nidal al-Mughrabi and Jeffrey Heller
GAZA/JERUSALEM, Nov 20 (Reuters) - A Hamas official said on Tuesday Egypt had brokered a Gaza ceasefire deal that would go into effect within hours, but a spokesman for Israeli Prime Minister Benjamin Netanyahu said "we're not there yet".
"An agreement for calm has been reached. It will be declared at 9 o'clock (1900 GMT) and go into effect at midnight (2200 GMT)," Hamas official Ayman Taha told Reuters from Cairo, where intensive efforts have been under way to end seven days of fighting.
Netanyahu spokesman Mark Regev told Reuters the announcement was premature and Israeli military operations in Gaza, territory run by Hamas Islamists, would continue in parallel with diplomacy.
"We're not there yet," Regev said on CNN. "The ball's still in play."
U.S. Secretary of State Hillary Clinton was heading to the region from Asia and was expected in Jerusalem late on Tuesday to meet Netanyahu.
Both Israel and the United States have said they preferred a diplomatic solution to the Gaza crisis to a possible Israeli ground operation in the densely-populated enclave of 1.7 million Palestinians.
"No country would tolerate rocket attacks against its cities and against its civilians. Israel cannot tolerate such attacks," Netanyahu said with U.N. Secretary-General Ban Ki-moon, who arrived in Jerusalem from talks in Cairo, at his side.
"If a long-term solution can be put in place through diplomatic means, then Israel would be a willing partner to such a solution," he said.
"But if stronger military action proves necessary to stop the constant barrage of rockets, Israel will do what is necessary to defend our people," said Netanyahu, who is favoured to win a January general election.
Hamas leader Khaled Meshaal said on Monday that Israel must halt its military action in the Gaza Strip and lift the blockade of the Palestinian territory in exchange for a truce.
Hours before the Hamas official said an agreement had been clinched, Egypt's state media quoted Egyptian President Mohamed Mursi as saying "that the farce of Israeli aggression against the Gaza Strip will end on Tuesday"
Mursi said, according to the reports, that "efforts to conclude a truce between the Palestinian and Israeli sides will produce positive results in the next few hours".
Israel pressed on with air strikes and Palestinian rockets flashed across the border on Tuesday.
Israel's military on Tuesday targeted about 100 sites in Gaza, including ammunition stores and the Gaza headquarters of the National Islamic Bank. Gaza's Hamas-run Health Ministry said six Palestinians were killed.
Israeli police said more than 150 rockets were fired from Gaza by late afternoon, many of them intercepted by Israel's Iron Dome system. Ten people were wounded in Israel, the military and an ambulance service said.
Medical officials in Gaza said 126 Palestinians have died in a week of fighting, the majority of them civilians, including 27 children.
Three Israelis died last week when a rocket from Gaza struck their house.
HAMAS TARGETS JERUSALEM
In an attack claimed in Gaza by Hamas's armed wing, a longer-range rocket targeted Jerusalem on Tuesday for the second time since Israel launched the air offensive with the declared aim of deterring Palestinian militants from launching rocket salvoes that have plagued its south for years.
The rocket, which fell harmlessly in the occupied West Bank, triggered warning sirens in the holy city about the time Ban arrived in Jerusalem for truce discussions.
In the Gaza Strip on Tuesday, Hamas executed six alleged collaborators, whom a security source quoted by the Hamas Aqsa radio said "were caught red-handed" with "filming equipment to take footage of positions". The radio said they were shot.
A delegation of nine Arab ministers, led by the Egyptian foreign minister, visited Gaza in a further signal of heightened Arab solidarity with the Palestinians.
Fortified by the ascendancy of fellow Islamists in Egypt and elsewhere, and courted by Sunni Arab leaders in the Gulf keen to draw the Palestinian group away from old ties to Shi'ite Iran, Hamas has tested its room for manoeuvre, as well as longer-range rockets that have also reached the Tel Aviv metropolis.
Egypt, Gaza's other neighbour and the biggest Arab nation, has been a key player in efforts to end the most serious fighting between Israel and Palestinian militants since a three-week Israeli invasion of the enclave in the winter of 2008-9.
The ousting of U.S. ally Hosni Mubarak in Egypt and the election of Mursi is part of a dramatic reshaping of the Middle East wrought by Arab uprisings and now affecting the Israeli-Palestinian conflict.
Mursi, whose Muslim Brotherhood was mentor to the founders of Hamas, on Monday took a call from Obama, who told him Hamas must stop rocket fire into Israel - effectively endorsing Israel's stated aim in launching the offensive last week. Obama also said he regretted civilian deaths - which have been predominantly among the Palestinians.
Mursi has warned Netanyahu of serious consequences from an invasion of the kind that killed more than 1,400 people in Gaza four years ago. But he has been careful not to alienate Israel, with whom Egypt's former military rulers signed a peace treaty in 1979, or Washington, a major aid donor to Egypt.
Addressing troops training in southern Israel, Defence Minister Ehud Barak said: "Hamas will not disappear but the memory of this experience will remain with it for a very long time and this is what will restore deterrence."
But he said: "Quiet has not yet been achieved and so we are continuing (the offensive) ... there are also diplomatic contacts -- ignore that, you are here so that if the order for action must be given - you will act."
Fighting Israel, whose right to exist Hamas refuses to recognise, is popular with many Palestinians and has kept the movement competitive with the secular Fatah movement of Palestinian President Mahmoud Abbas, who remains in the West Bank after losing Gaza to his Islamist rival in a civil war five years ago.
"Hamas and the others, they're our sons and our brothers, we're fingers on the same hand," said 55-year-old Faraj al-Sawafir, whose home was blasted by Israeli forces. "They fight for us and are martyred, they take losses and we sacrifice too."
Along Israel's sandy, fenced-off border with the Gaza Strip, tanks, artillery and infantry massed in field encampments awaiting any orders to go in. Some 45,000 reserve troops have been called up since the offensive was launched.
Israel's shekel rose on Tuesday for a second straight session while Tel Aviv shares gained for a third day in a row on what dealers attributed to investor expectations that a ceasefire deal was imminent.
BEFORE YOU GO
PHOTO GALLERY
Israel-Gaza Conflict
23/11/2012 05:31 GMT
Clinton Warned Netanyahu: Don't Punish Palestinians For U.N. Bid
From Haaretz:
U.S. Secretary of State Hillary Clinton warned Prime Minister Benjamin Netanyahu during her talks in Israel this week not to take any extreme actions in response to the Palestinian move in the United Nations for recognition as a non-member state. Clinton said such steps against the Palestinian Authority could bring about its collapse. The Palestinians are planning to ask the United Nations General Assembly to vote on upgrading its status from non-member entity on the symbolic date of November 29.

The day after the cease-fire with Hamas took effect, Israel is preparing for the next crisis with the Palestinians, which is scheduled for six days from now. November 29th is the anniversary of the United Nations vote on accepting the Partition Plan in 1947, which led to the founding of the Jewish Sate. It is also the United Nations' International Day of Solidarity with the Palestinian People.
Read more here.
23/11/2012 03:50 GMT
Report: U.S. Urges Israel Not To Build In E-1 Areas
From the Jerusalem Post:
Washington is urging Israel not to allow construction in the area known as E-1 between Jerusalem and Ma'aleh Adumim as a possible response to the Palestinian bid for statehood recognition next week at the UN, The Jerusalem Post has learned.

Building in E-1, which would create contiguity between Jerusalem and Ma'aleh Adumim to the northeast beyond the Green Line, is something various Israeli governments have long wanted to do, but which US opposition has prevented.
Read more here.
23/11/2012 00:01 GMT
Life In Gaza's Courtyards
The New York Times' Jodi Rudoren chronicles displays of pride and sacrifice:
Inside a courtyard, there are faded remnants of "Congratulations from the uncles," from the April wedding of a son of Ahmed al-Jabari, the commander of the Qassam Brigades, the military wing of Hamas, whose assassination last week was the beginning of the latest round of intense battle between Israel and the Gaza Strip.

On the wall outside, the colorful Arabic script reads "Welcome hajji, Abu Muhammad," a reference to Mr. Jabari's return from a pilgrimage to Mecca last month. Nearby, the freshest paint pronounces a message from the troops: "Rest in peace. The mission has been accomplished."
Read the full story at the New York Times.
22/11/2012 23:19 GMT
PHOTO: Egypt Tunnel Into Gaza
Egypt Tunnel into Gaza:
An underground tunnel connecting through which I got into Gaza from Egypt. Israel has repeatedly targeted the tunnel network, trying to hinder flow of goods and weapons into the strip. (Photo by Mosa'ab Elshamy via Flickr)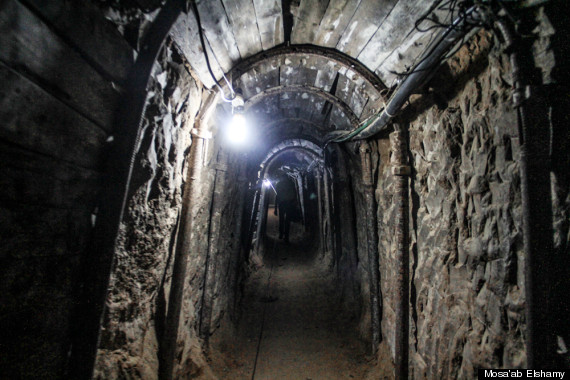 22/11/2012 22:55 GMT
Soldiers Show Frustration Via Viral Facebook Photo
16 soldiers spelled out 'loser' with their bodies to critique Netanyahu and show frustration at not going into battle.
22/11/2012 22:29 GMT
Who Brokered The Ceasefire
The Economist discusses how the ceasefire was achieved and whether it could lead to lasting peace in the region.
Among others coming and going were the UN secretary-general, the American secretary of state and the foreign ministers of Turkey and Germany. But the real bargaining took place behind closed doors at the headquarters of General Muhammad Shehata, Egypt's intelligence chief. There, in separate rooms, the Egyptians haggled with a legal adviser to the Israeli prime minister, and with representatives from Hamas, the Palestinian Islamist group that runs Gaza, and a smaller, more radical Palestinian faction, Islamic Jihad.
22/11/2012 21:22 GMT
Israeli Arab Arrested for Tel Aviv Bus Bombing
From the Associated Press:
JERUSALEM (AP) — Israel's army spokeswoman says an Israeli Arab who is a member of Hamas has been arrested for Wednesday's bus bombing in Tel Aviv.

The bombing injured 27 people near Israel's military headquarters and threatened to scuttle efforts to broker a cease-fire to end fighting between Israel and Gaza.

Israeli military spokeswoman Lt. Col. Avital Leibovich reported Thursday on Twitter that authorities had arrested the man who planted the bomb on the bus and identified him as an Arab Israeli from the village of Taybeh. She said he was a member of Hamas.
22/11/2012 20:41 GMT
Arrest Made In Tel Aviv Bus Bombing
22/11/2012 20:38 GMT
A Palestinian Boy A Palestinian boy and militants of the Izzedine Al-Qassam Brigades, the armed wing of Hamas, attend funerals of five Hamas militants in Mugharka village, central Gaza Strip, Thursday, Nov. 22, 2012. Five Hamas militants were killed in an Israeli air strike yesterday, Palestinian health officials said. (AP Photo/Adel Hana)
22/11/2012 20:28 GMT
Israel-Gaza Conflict Winners And Losers
While the cease-fire agreement between Israel and Gaza on Wednesday brought an end to the rockets and airstrikes, the political fallout is just beginning. The Associated Press offers a breakdown of who won and who lost as a result of the truce agreement:
Read the full story on HuffPost World.