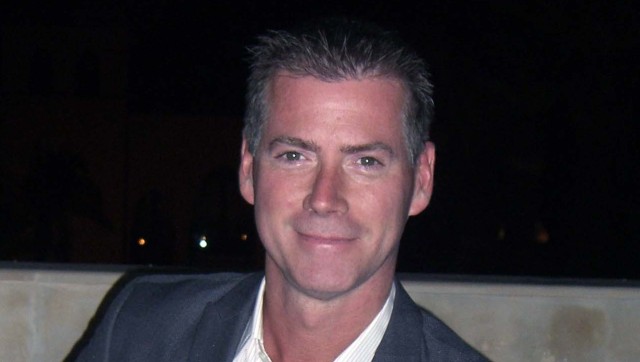 While the rest of New York City was evacuating because of Hurricane Sandy, one loyal building manager John Coyne defied orders and risked his life to sneak back to care for the people and animals that were left behind.
When Hurricane Sandy hit New York, The Osborne, a residential building located at 205 West 57 Street, was in direct danger of flooding and losing electricity. The high-rise building was also in range of the infamous crane that dangled threateningly over the street.
According to the New York Times, the damaged crane was above the 74-story skyscraper going up at 157 West 57th Street — so close that people in the Osborne heard the noise as it broke apart on the afternoon of October 29.
Julianne Yeston, the wife of the famous composer and lyricist Maury Yeston, told the Times that she heard "this hideous sound, a sound I had no template for."
Yeston described seeing pieces of metal from the crane tumbling past her window and slamming into the ground. "You could feel it when they hit," she said.
Maury Yeston said it was not long before word came to clear the building. "A firewoman with an ax came in and said: 'Everyone out right now. Do not spend time gathering your things,'" he recalled.
Emergency personnel had warned Coyne that there was also the possibility of a gas explosion.
Residents dutifully left their homes with the belief that the evacuation would be shortlived. It took half an hour to evacuate the building. Residents headed to the New York Athletic Club across the street which was set up as a temporary shelter.
Coyne also evacuated like everyone else and headed to a friend's house on Central Park South. However, he didn't stay there long. He walked through the building and out its back entrance onto 58th Street, headed for the building behind The Osborne. He asked the building manager there for a ladder. Coyne then scaled the wall, and sneaked back inside.
He knew that people remained in the building without heat or hot water, and his goal was to reset the boiler.
"Its my home, my charge, I care about her," Coyne told The Huffington Post. "She's a beautiful building. [I] wanted to make sure no one would break in."
Other residents had chosen not to evacuate, but they were quickly running out of supplies. One man, who wished to remain anonymous, had returned to New York in his final years of life and was in hospice in the back of building. His aides, however, were having trouble getting relief due to the evacuation.
The threat of explosion was also a constant fear for those who remained inside the building.
"A couple of years ago there was a steam pipe explosion in midtown," Coyne told HuffPost. "I kept thinking about that."
"We stayed in the lower floors in the back and the basement. It's a strong building," he added. Coyne also worked with the police to make sure that everyone inside the building remained safe.
He then began to communicate with the evacuated residents on the status of the building through email and telephone.
Another resident, the novelist Elinor Lipman, said Mr. Coyne "was our lifeline."
"John answered the big questions, John answered the little questions" by cellphone and e-mail, Lipman told the New York Times.
For nearly a week, he kept evacuees "informed" and "hopeful of a quick return," said the film critic Jeffrey Lyons, who also lives in the building
Coyne was also busy taking care of the building's various pets who were not able to evacuate with their owners.
"Everyone with dogs took their dogs," Coyne told HuffPost. "But cats were left because they didn't think it would be long. Some residents were out so they didn't get a chance to gather their things."
In total, Coyne cared for five cats, two goldfish and three hermit crabs, which had to be constantly watered.
Initially Coyne didn't let all his residents know that he was back in the building. When he finally did send out a mass email, concern for his well-being immediately poured in. Some people called or emailed back and asked if he had enough food -- which he did, fortunately.
Coyne's stay in the empty building lasted almost a week. Everyone was finally allowed back in the building November 2, around 7:30 pm.
Upon returning to their homes, the residents had a special surprise in order for the loyal building manager who cared for their homes during the storm –- a party in his honor.
"We often have parties in the lobby," Coyne said of his surprise. "There was a 'Welcome home' banner. Having the party was not surprising, but I didn't know I was the guest of honor."
With a rousing rendition of "For He's A Jolly Good Fellow," the residents showed their appreciation.
Maury Yeston even wrote a song about the entire experience -- featuring The Osborne, the hurricane and Coyne.
"A lot of resident managers think, 'This is where I work,'" Coyne told the crowd. "You're my family."
"I was just taking care of my neighbors, taking care of my home and making sure it was safe. And it was nice that they appreciated," he added.
H/T: Reddit

BEFORE YOU GO
PHOTO GALLERY
Hurricane Sandy Random Acts of Kindness