Todd Carmichael, the host of the Travel Channel series "Dangerous Grounds" (Tuesday 9 pm ET), had a near death experience entirely in keeping with his show's adventure theme on Saturday when his Jeep rolled off a cliff on Colombia's Sierra Nevada Mountain.
"The section of dirt mud road we were on slid away and the truck with it," Carmichael told HuffPost Travel. "We rolled over... like shoes in a clothes dryer. The truck came to a stop on its roof, caught by a single tree, beyond it the black darkness of a shear drop."
According to Carmichael, who hunts the world for exotic coffees, the cliff was roughly 200 feet tall and the accident occurred around midnight. After climbing out of the wreck with his cameraman Hollywood, whose actual name is John Murphy, Carmichael walked through the dark to the nearest town.
"Sometime near morning we arrived at Pueblo Bello... feeling lucky to be alive," said Carmichael.
Check out a photo Todd took after freeing himself from the car below.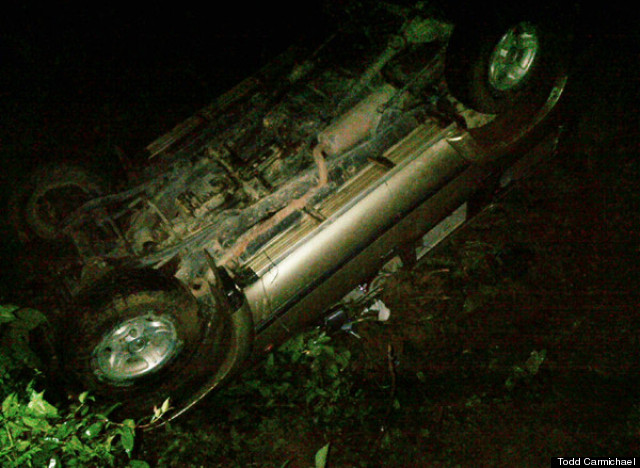 The host then proceeded to send the least reassuring reassuring text of all time to his wife, Lauren Hart. The message read: "Rolled my truck off the highest mountain in Colombia, caught by trees. Broke my watch but all fine. Like shoes in a clothes dryer. Should be dead really. Dodged another one. Walked through the night to Pueblo Bello, home soon."
In the process of filming his show, Carmichael had traveled to 8 countries on a total of 42 flights. Though his fortuitous arboreal stop was the closest he came to death, his show will also showcase his adventures in Bolivia and Madagascar, where he had to dodge riots on his way to the plantations.
BEFORE YOU GO