Hello Kitty, Papa Smurf and The Elf on the Shelf will all make their way down Sixth Avenue when the 86th annual Macy's Thanksgiving Day Parade kicks off in New York City on Thursday.
The 2012 Macy's Thanksgiving Day Parade will begin at 77th Street and Central Park West in Manhattan at 9 a.m. on Thursday, Nov. 22. The parade will continue on to Columbus Circle and turn onto Central Park South. Marching along Central Park South, the parade will then veer onto Sixth Avenue and head from 59th Street down to 34th Street, making its final stop at Macy's Herald Square.
Here's the complete Macy's Thanksgiving Day Parade route map. (Story continues below)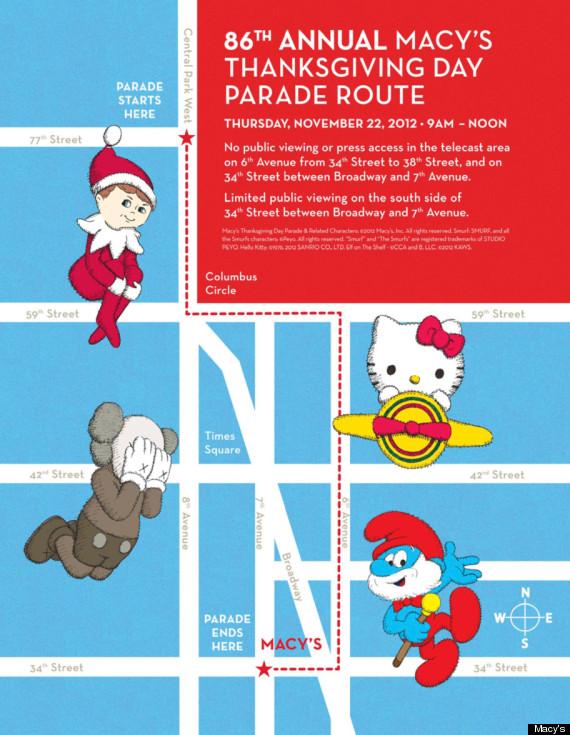 Widening pedestrian plazas, as well as other factors, has made it necessary to slightly alter the Macy's Thanksgiving Day Parade route this year, according to CBS New York. For those hoping to get a prime spot, CBS NY suggests to trying 42nd Street around Sixth Avenue and the path along 6th Avenue to 34th Street. Attendees are advised to arrive around 6 a.m.
About 8,000 marchers will make their way through the streets, as millions watch along the parade route and on television at home, according to My Fox NY. The weather in New York City looks good for Thursday, with sunny skies and temperatures in the low 50s expected.
This year, 5,000 seats along the parade route were given away to families hardest hit by Hurricane Sandy, CBS NY reports. "As soon as we were able to gain access back to the studio, everybody was even more dedicated to get this parade finished for those who really need something to smile about this Thanksgiving," said Amy Kule, executive producer for the parade,
The first Macy's Thanksgiving Day Parade was held in 1924. It was then known as the Macy's Christmas Parade and featured animals from the Central Park Zoo. In 1927, the Thanksgiving Day Parade debuted its first helium character-balloon, Felix the Cat.
BEFORE YOU GO
PHOTO GALLERY
The Macy's Thanksgiving Day Parade