Sure, you can sit around watching football with the family on Thanksgiving, like you always do.
Or, you could watch homemade trebuchets, air canons, and mortars fire pumpkins at high velocity over a Delaware corn field.
Oh yes, Punkin Chunkin is back, along with more than 100 teams competing to shoot their pumpkins the farthest. It's the greatest mash-up of physics, man vs. machine and awesome outfits since we landed on the moon.
"It's just days of nuttiness," said Kari Byron of Mythbusters fame, who will host a two-hour special on this year's Punkin Chunkin, Thanksgiving night at 8 p.m. Eastern Time on the Science Channel.
"[Hurricane] Sandy turned the farm into a lake, so we had to wait and shoot off as many pumpkins in two days as we could ... People spend all year preparing their machines to shoot pumpkins on one day."
All the preparation is in hopes of smashing the current record, which was destroyed by a team out of Virginia last year with their winning throw of 4929.37 feet. This year, Byron says, a team just might shoot a pumpkin over a mile and win the "Lord of the Gourd" title.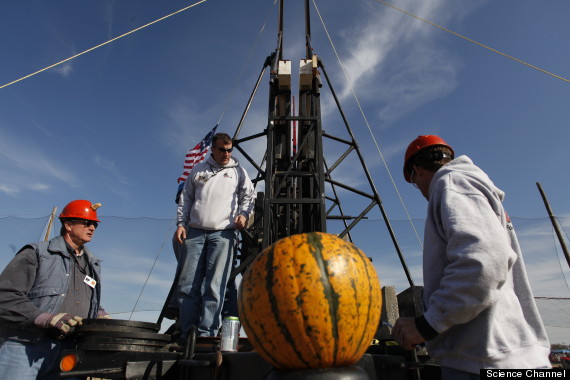 "One team really impressed me," Byron said. "In the youth division, two 17-year-olds turned in their video games for engineering and made an awesome steel structure with two counter weights ... they are going to rule."
In past years, air cannons -- which look a lot like weaponized cannons -- have dominated the homemade pumpkin launchers. But they'll be competing against the torsion, trebuchet, catapult and centrifugal divisions in an all out vegetable war.
Check it out on the Science Channel Thursday night.
BEFORE YOU GO
PHOTO GALLERY
Badass Heroes