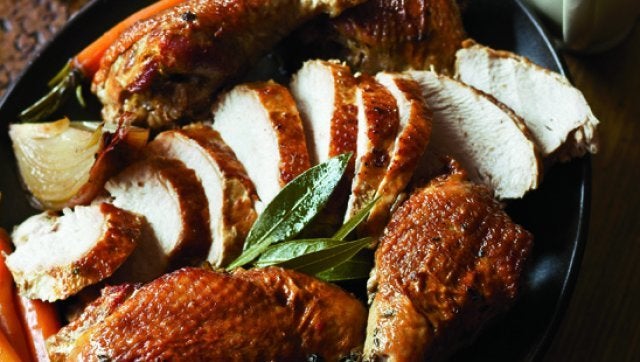 Dear HuffPost Taste readers,
If you feel like pulling your hair out right now, it's okay. We may be partially to blame. Since early November, we've been preparing you for the big day. We've bombarded you with 19 different ways to make mashed potatoes, 18 new ways to change up your cranberry sauce, and 20 twists on stuffing -- we've basically given you all the Thanksgiving recipes you could ever need. You've been bossed around by Sam Sifton and The Food Commander, who've dictated what you can and can't put on the dinner table (full disclosure: we actually love some of those rules). Basically, we've prepared you to cook the most incredible Thanksgiving dinner in the history of gastronomy, but we forgot to tell you the most important thing: PLEASE CHILL OUT.
That's right, you probably need to chill out. Whether you're feeling the pressure to cook a massive, challenging feast or you're just nervous that your drunk uncle will make a scene again, that pressure is real. We know, because we're in the same boat. And when we go to sleep at night, we have nightmares that the boat is a gravy boat, and that the gravy is lumpy. It's called Thanksgiving Anxiety, and we're here to help you.
Of course there are measures you can take to prevent failure, such as preparing a Thanksgiving disaster kit or memorizing the seven ways to save a turkey. But even if you've slacked off on your Turkey Day homework, we're here to tell you this: It's going to be okay. We think it's a safe bet that your meal will still be delicious. It's going to be a hit, your guests will fill their bellies with way too much food, and you'll be left to revel in your culinary glory as your satisfied diners fall into a tryptophan coma.
If you end up cooking the Thanksgiving dinner of your dreams, CONGRATULATIONS! You win. But let's face it, the world isn't going to end if you burn your turkey – it won't even end if you forget to buy your turkey. Take a sip of your cocktail, go order some pizzas and forget about it. It's going to be okay, we promise.
In the meantime, please click through the slideshow below and stare at our favorite Thanksgiving GIFs. It'll make things better.
Your HuffPost Taste Editors
Kristen Aiken
Rebecca Orchant
Julie Thomson
PHOTO GALLERY
Thanksgiving Food GIFs
BEFORE YOU GO