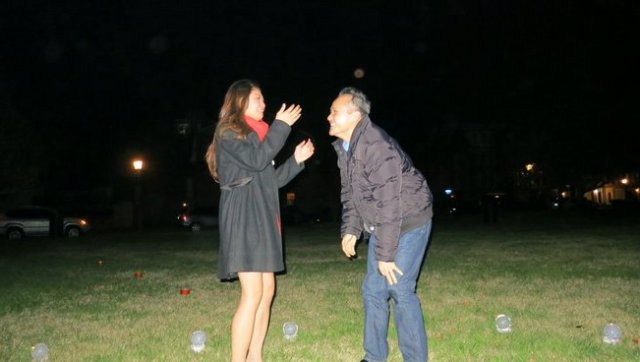 ALEXANDRIA, Va. -- The Old Town waterfront was even more sparkly than usual on a night just before Thanksgiving when a group of people held up big silver foam letters covered in LED lights that read "MARRY ME KIM."
"I had a little feeling that he was going to propose that night," says the Kim in question, 25-year-old Kim Huynh. "I expected the typical, down-on-one-knee proposal in the grass ... But when my family and friends came out of the bushes with the blinking signs, I was at a loss for words."
The person doing the asking would be 36-year-old Vinh Diep, who claims he is ordinarily "not super romantic."
"But if I was put in a position where I had to then my creativity comes out," he says. "It went [as] perfectly as I had hoped."
Story continues below...
PHOTO GALLERY
Marry Me Kim
Both bride and groom were born in Vietnam, grew up in the D.C. area and are living in Fairfax, Va. They plan to tie the knot next September in a traditional, 450- or 500-person ceremony in Falls Church, Va., that Huynh says "will most likely be fun!"
It will also be fashioned to honor the couple's families, and their Vietnamese culture and traditions.
And after that? "I know I'm one of the luckiest girls to have such a loving, romantic and caring man in my life," says Huynh. "And I know he will be the same man 40 years from now."
Know of any D.C.-area stories? Want to email and say hello? Get in touch at dc-tips@huffingtonpost.com.
BEFORE YOU GO
PHOTO GALLERY
Extravagant Celebrity Honeymoons