An Arizona gun store owner who posted a sign declaring supporters of President Barack Obama unwelcome in his shop has seen a surge of business -- and public response -- after his antics went viral.
Cope Reynolds, the owner of Southwest Shooting Authority in Pinetop, Ariz., told the Arizona Republic that "business is booming" following his public displays of protest. Reynolds also took out a full page ad in the White Mountain Independent which read, "If you voted for Barack Obama, your business is NOT WELCOME at Southwest Shooting Authority. You have proven you are not responsible enough to own a Firearm."
SCROLL DOWN TO SEE AD
The sign and the ad were shown on local news station KPHO on November 16 and eventually garnered international attention.
As a result, Reynolds told the Republic, he has been "busier than a cat covering up poop on a marble floor."
In addition to being inundated by phone calls from media outlets, supporters and critics, people have taken to social media to respond.
On Twitter, Reynolds has sent out messages of thanks to supporters, sparred with detractors and apologized for the tardy release of the latest recording from his radio show, "The Shooting Bench," explaining that he has been "unreasonably busy here for the last few days."
On the store's Facebook page, lively debates among the public are mixed in with advertisements for upcoming events, including a Preparedness / Survival seminar. One recent post, apparently from Mr. Reynolds, asks users to "keep the discussion civil" and explains the moderator's recent ban of "a bunch of foul-mouthed, irritating jerks."
Many have not been so happy about Reynolds' actions. He told Talking Points Memo that he has received death threats and calls from people with "vile and nasty language."
Other business owners have recently found that the mix of business and politics does not end in success.
After several CEOs and franchise owners publicly bemoaned the effects of Obamacare on their businesses, public outcry forced some executives to distance themselves from the remarks and others, like Papa John Schnatter, to attempt to clarify their statements.
LOOK: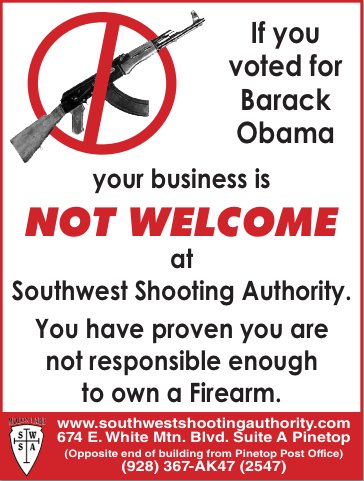 WATCH:
BEFORE YOU GO
PHOTO GALLERY
10 Most Fatal Industries