PHOTO GALLERY
Frida Kahlo: "Appearances Can Be Deceiving"
It's been almost six decades since her death, but it seems like Mexican surrealist Frida Kahlo is more alive than ever -- immortalized through her art, and now through her fashionable wardrobe.
The cover of the November issue of Vogue Mexico magazine offers a preview of the new exhibit "Appearances Can Be Deceiving: The Dresses of Frida Kahlo," which brings new pieces to the public and reveals the hidden world of the iconic artist. Focusing on the issues of "disability" and "ethnicity," the exhibition will be presented at the Frida Kahlo Museum, also known as "Casa Azul," in Mexico City.
Those who drop by will have a chance to check out Kahlo's entire clothing collection for the first time in nearly 50 years. The items were stored in a warehouse by her husband, muralist Diego Rivera. Some of her most emblematic accessories, jewelry and shoes, along with colorful dresses, shirts and skirts will be on display – complete with the paint stains and the smell of snuff from the original owner.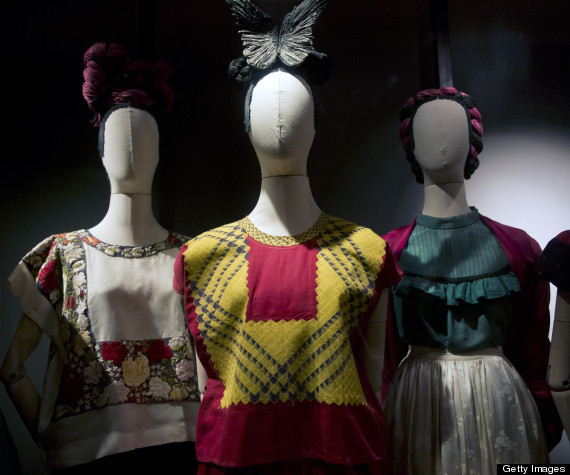 "She had a tremendous self-confidence," Alejandra Lopez, art restorer for the painter's home, told the Associated Press. "She was convinced that what she wore displayed who she was inside."
Among the 300 pieces on display are corsets, leg immobilizers and prosthesis -- some of the medical devices used by the painter to cover body imperfections caused by polio as a child and after a bus accident when she was just a teenager.
Kahlo's life, filled with suffering from multiple miscarriages and illness, served as inspiration for her surreal creations. Such memories continue as a legacy to new generations, influencing the work of fashion designers worldwide like Jean Paul Gaultier, Givenchy and Alexander McQueen, among others.
See items from Kahlo's collection and photographs of her signature looks above.

BEFORE YOU GO
PHOTO GALLERY
Frida Kahlo
PHOTO GALLERY
Frida Kahlo Style