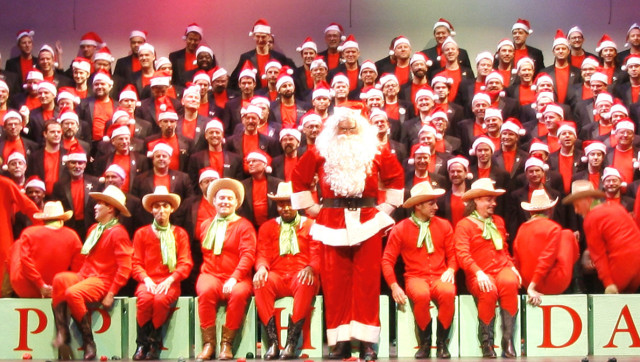 WASHINGTON -- The Gay Men's Chorus of Washington kicks off its season this weekend with three shows at the Lisner Auditorium. The holiday concert series, Winter Nights, will feature a mixture of traditional holiday classics and some numbers not typically associated with caroling.
The 200-plus member chorus only performs in full force a few times a year. The Huffington Post spoke with Gay Men's Chorus of Washington member Richard Weinberg about the group, rehearsals and what to expect this weekend.
The Huffington Post: How did you get involved with the chorus?
Richard Weinberg: My background is in professional music. I happened down a different career path so now I feel like I have the best of both worlds. I get to do what I like during the day and then after hours I get to still sing and make music.
I come from a world where unions and breaks were strictly accounted for and now I'm in an environment where everyone is there because they want to be there and they have fun being there. It's really a community. It's where all my best friends are. It's just as social as it is music making and the quality is at a professional level.
I think that for what we can produce, we rehearse surprisingly little. We only rehearse once a week, Sunday evenings.
HuffPost: How many people are at those rehearsals?
Weinberg: We have anywhere from 150 to 200 guys.
HuffPost: That's a lot.
Weinberg: Yea. It's always warm. We rehearse at the New York Avenue Presbyterian Church near Metro Center. We use a large room up in the church and it's always very warm. Two-hundred bodies probably doesn't help that.
HuffPost: Getting that many people to rehearse on a weekly basis is impressive.
Weinberg: Yes, we're committed. It's been around for more than 30 years.
HuffPost: When did you join?
Weinberg: Four years ago.
HuffPost: What drew you to the group?
Weinberg: One of my best friends, Michael, a former board chair, has been a long time member. He introduced me to the chorus long before I started singing with the chorus.
I'm also in a group called Potomac Fever that's a subset of the big chorus. We're an a capella ensemble of 14 people. We're one of two small ensembles. The concept is that we're the outreach groups.
We have an accomplished list of venues where we've sung including the first LGBT Leadership Summit at the White House hosted by President Obama and for four years now we've been invited by Vice President Biden and Dr. Biden to sing at one of their Christmas parties at the Naval Observatory.
HuffPost: How often does the Gay Men's Chorus of Washington perform?
Weinberg: Four times a year. This holiday show is our first show of the season. There's one is in February about the theme of marriage with an actual wedding on stage during the show. All of the songs will be in the theme of love and marriage.
We also do fully staged shows, Broadway-style shows, this year we're doing "Xanadu" in March.
The last show is in June and always in conjunction with Gay Pride in D.C.
HuffPost: How would you describe the holiday show?
Weinberg: It's a catch-all celebration of the holidays. It's wonderful because we have moments where it feels very traditional. For example I have a small solo in very traditional English carols and the chorus has this ability to sing gorgeous melodies in a classical style. On the completely opposite end, we're doing a number that celebrates Bollywood and the holidays. We're going to have a guy out in drag dancing with this gorgeous costume. We also have a dance troupe which is another thing that makes the shows really fun.
There's also songs for Chanukah, we have a really funny song about "Black Christmas." You can expect everything.
Our artistic director Jeff Buhrman always likes to tell people that our goal with all the shows is to move people to tears, to make them laugh and maybe make them think a little in terms of challenging them to be advocates for gay rights movement.
Winter Nights will be at the Lisner Auditorium on Friday, Nov. 30 at 8 p.m. and Saturday, Dec. 1 at 3 p.m. and 8 p.m. Saturday night tickets are almost sold out.
BEFORE YOU GO