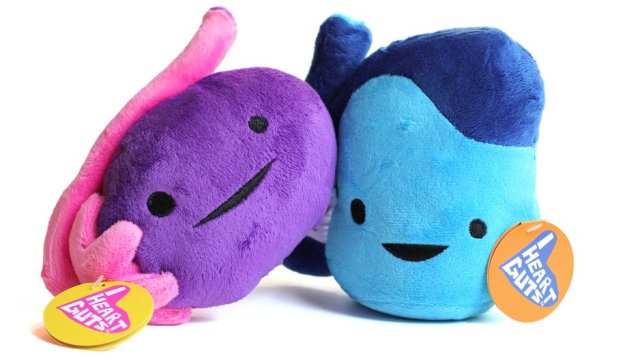 WASHINGTON -- Are you a fun-loving dermatologist?
I Heart Guts -- the Takoma Park, Md.-based company specializes in making plush versions of human organs -- is looking for such a person to review a melanoma chart. A cheerful and exciting melanoma chart!
The skin cancer self-exam chart is designed "to be so fun that you want to hang it on your wall," I Heart Guts founder Wendy Bryan tells The Huffington Post. "What could be more fun than getting naked with a friend and hunting for spots?"
Bryan has already created two other self-exam charts: Grab Your Gonads and Breast Exam Ever.
All are designed to "encourage people to get to know their bodies in a fun way," says Bryan. "You should know your skin -- or your boobs or your balls -- better than anyone so that you can be an expert on the subtle changes that might mean something more to your doctor."
Speaking of doctors: If you're a fun-loving one who specializes in skin, get in touch with I Heart Guts via the company's Facebook page.
Meanwhile, check out some of I Heart Guts' plush organs here:
PHOTO GALLERY
I Heart Guts
BEFORE YOU GO