Ron English broke into the art scene as a student in the 1980s, hi-jacking billboards and replacing them with his own work. His irreverent pop culture mashups combine vandalism, advertising and classical art technique on the jam-packed canvas. The Pop Surrealist has been dubbed the "the father of street art," and we're not going to question this status.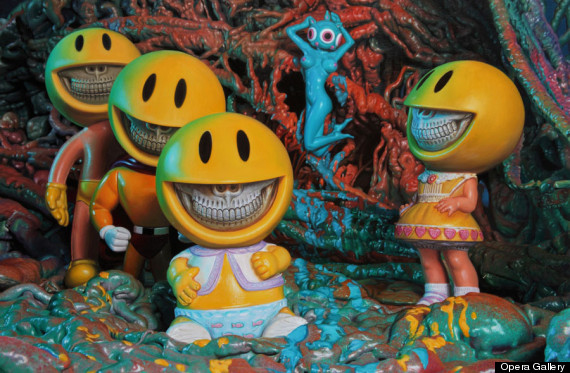 English's current exhibition "Crucial Fiction," now at Opera Gallery in New York, is a collaboration between the established artist and his former self. The gallery asks, "What might happen if a 50-year-old man at the height of his powers as fine artist and painter could finally animate the elaborate visions constructed by his 8-year-old self, that boy who dug holes to China in the backyard while imagining every blade of grass as a green army soldier laid low by the advancing plastic hordes of cowboys, Indians and assorted disposable heroes?" This hopeful premise doesn't only sound ripe for a great exhibition, but possibly also a Disney movie starring -- dare we say it -- Bruce Willis.
Expect your childhood friends to have a very adult twist as a result of this collaboration; for example, Betty Boop shares a canvas with a skull, the Virgin Mary, Minnie Mouse, Marge Simpson and a religious Teletubby. The highly anticipated show also includes an even darker "Guernica" and the cereal box mascots we've been waiting for since we interviewed him in March.
There are only two days left to see "Crucial Fiction" at Opera Gallery; click through the slideshow below for a peek.
PHOTO GALLERY
Ron English
BEFORE YOU GO