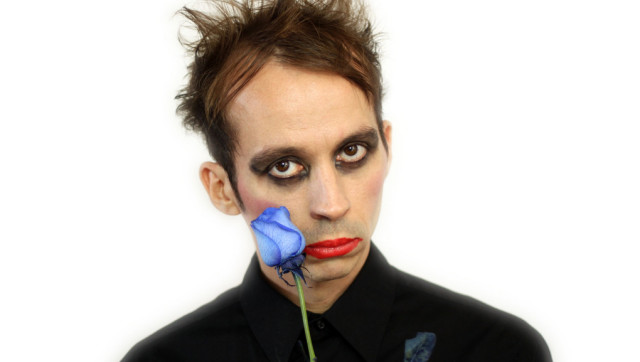 WASHINGTON -- Remember the 1990s? Story League's next contest has a very familiar theme, the not-too-distant decade, the '90s. The D.C.-based story telling organization has recruited a fine expert of the recent past in host David Crabb.
Crabb, a New York City-based story teller, actor and future memoirist, presides over Wednesday night's contest. Fresh from a spring run of his New York Times Critics' Pick solo show "Bad Kid," Crabb knows how to handle a crowd and the '90s. The show was about his experience growing up as a goth kid in Texas in 1991.
The Huffington Post spoke with Crabb about his approach to the stage, where story tellers should look and how to connect with a crowd.
The Huffington Post: How did you get involved in story telling?
David Crabb: I've been an actor in New York for about 10 years at this theater company called Axis in the West Village. Over time I saw more of The Moth and began what I was doing as an actor in story telling. It's been something I've already done, there wasn't really a forum for it other than stand-up comedy. I guess I got into it about four years ago. Now I co-produce my own show called Ask Me Stories.
HuffPost: Do you still act?
Crabb: Yes, I still perform with Axis. I just did a play called "Last Man Club" at the theater. It's also where Ask Me happens.
HuffPost: Do you approach acting and story telling in different ways?
Crabb: It's funny, I was telling someone the other day, ever since I was 8 or 9 I told stories to make my mom or my dad laugh and then I became an actor. The last few years have been circling back to what I did, trying to make my parents laugh.
Having a more direct forum, telling your own stories, is so refreshing because there's no script. Then again, there are times when you're telling a story and you wish you had a script.
I'm a writer as well so getting to tell stories is a great union between writing and acting.
HuffPost: Do you think that helps explain the popularity of story telling? People trying to get back to what they were doing at 8 or 9 years old?
Crabb: No, no, no. I think in the last 20 years the Internet made everyone feel like they could be a star. I think it's great in a lot of ways. It has given bloggers and everyone a voice. The other thing that happened is people's attentions spans got really short. Forwarding someone the most hilarious 30-second video you could watch at work at your computer became important.
I think it's interesting because that has produced a desire in people for narrative. When you think of TV shows in the last 10 years, a show like "Lost" would have never been a hit 10 years prior. It took five years to find out what the smoke monster was. That's crazy. People seem to want narrative. They want to get involved in the story.
I think it's a cross between those two things, a chance to share something and the context to do it.
HuffPost: Do you approach hosting differently than performing?
Crabb: Oh yea. Tonight at the '90s show I'm looking back on the Top 10 Billboard hits, which is fun and embarrasing at the same time.
It's fun listening to the stories and reacting off of them. Preparing too much takes away from what's going on in the moment.
HuffPost: What's the one trap story tellers fall into?
Crabb: One thing is performative and one thing is writing. I wish people would look at the audience. So often you see a performer looking at the ceiling and the floor and it's a common thing to do, when you're accessing information, even in conversation. Sometimes it stems from being embarrassed or nervous. Every student I've ever had, when they start looking at the people, it loosens them up. It reminds them that they're kind of having a conversation.
I think the other thing is coolness in story telling never works. You can do it in stand up, you can have a character, but if you're story telling and trying to be cool or detached or not be a little vulnerable, the audience will not trust you.
HuffPost: Does it matter if the story is funny? If it's a funny story, how important is it to be vulnerable?
Crabb: One sort-of type of funny story that you'll see a lot, is, "I was a geek in high school." What makes the story good is the details. You'll hear the same story again and again, but the details can make it interesting. One person grew up in the South in the '80s and one person grew up in Detroit in the '90s, the details are what matters. If someone can go up and own that they were a geek, they'll be with you.
I recently heard a story of a woman who told the crowd she lost her virginity at 34. It was so awesome because from the first 30 seconds, she was owning the fact that it took her that long. The jokes were heartbreaking and sincere. People really, really enjoyed that story. A lot of story tellers would have liked to get the virginity out of the way, but she kept explaining it. How she looked, how she behaved, that's what made people like the story.
Story League's Story Contest The 1990s will be at the Busboys and Poets tonight. Interested attendees should purchase tickets in advance. Tickets tend to sell out before doors are opened.
BEFORE YOU GO