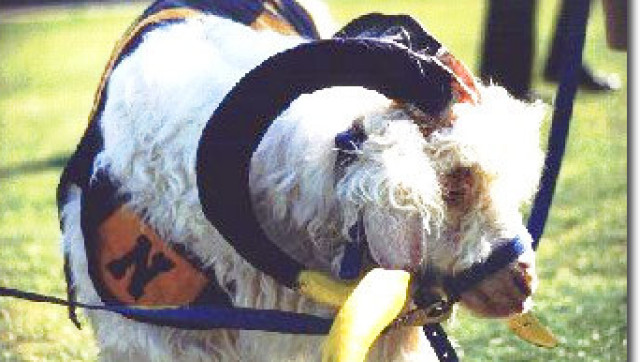 ARLINGTON, Va. -- This goat keeps getting gotten.
Staten Island has its wayward zebras and ponies. Northern Virginia and Maryland have stolen goat college mascots.
ARLnow.com reports that a goat was discovered on a Northern Virginia roadway this past weekend "tied up on a median in Crystal City" at S. Eads Street and Army Navy Drive.
The Animal Welfare League of Arlington got a call about the goat on Saturday. Not long after AWLA workers rescued the goat, its owner "called and retrieved the goat from the shelter," according to ARLnow.com, which noted that the misplaced ruminant is a college mascot.
AWLA's chief operating officer Susan Sherman confirmed that the goat is indeed a college mascot, but said she couldn't give any more details about its provenance.
We have some ideas: The U.S. Naval Academy, located in Annapolis, Md., has a goat mascot named Bill.
And then there's this:
Bill -- or Bills; there have been multiple incarnations since the Naval Academy adopted the live goat as its mascot in 1893 -- has been stolen many times over the years. And it's not just live Bills that are subject to theft. During an October football game, a life-sized replica of Bill worth $600 was stolen from a parked SUV; the owner of that stolen goat is offering a $500 reward for its return.
Sources place the first kidnapping in 1953 by West Point Army cadets. (The same sources also note that two subsequent Bills died when weed killer was sprayed too close to their pens.)
Bill XXXIII is the Naval Academy's current mascot. According to the Bill the Goat Wikipedia page, it is this Bill's backup who was most recently kidnapped:
On November 23rd, 2012 unknown assailants kidnapped Bill XXXIV, and tied him to a pole on Army Navy Drive, adjacent to the Pentagon, he was rescued by PPD Officers and returned to Gambrills, MD shaken but unharmed.
Perhaps not coincidentally, the 113th annual Army Navy football game is scheduled for Dec. 8.
For those concerned about the goat's safety: Sherman told HuffPost that while "we don't deal with goats very often," this one "seemed well cared for."
Sherman also said that the AWLA "can't really take any [legal] action, because we don't know who tied the goat up."
UPDATE, 12:30 p.m.: The kidnapped goat is indeed Bill, according to Navy Times:
Bill the Goat, the Naval Academy Mascot, was stolen over the weekend and attached to a median near the Pentagon. He was recovered Saturday morning in good condition.

The goatnapping was confirmed Thursday by John Jordan, manager of Maryland Sunrise Farm, the home of Bill XXXIII and Bill XXXIV. Jordan did not know which of the academy's two mascots was stolen.

Jordan suspects soldiers were behind it, but he had no knowledge of it.
BEFORE YOU GO
PHOTO GALLERY
Cats vs. iPads