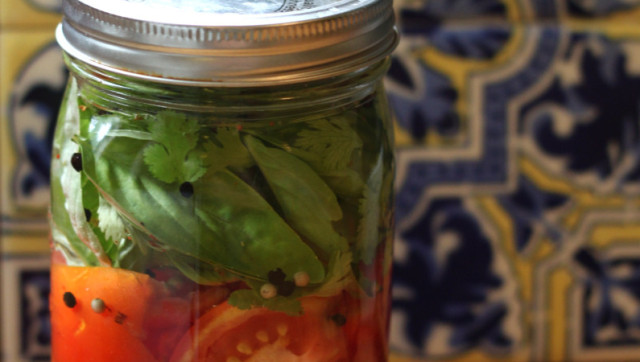 Remember when we mentioned infused liquors in our handmade holiday gift guide? We wanted to make sure you weren't only making fruity, sugary, citrusy infusions over there. Not that there's anything wrong with them, but we love to make sure savory ingredients get their due in the holiday gift department.
Infused liquor is one of the easiest, most inexplicably impressive techniques to experiment with. A cocktail made with a homemade infusion sounds so fancy, but really, you just have to know what tastes good together, then cram it all into a mason jar and be patient. Tons of liquor infusions utilize the clean, neutral flavor of vodka, as it's such a great canvas for other ingredients to shine on. But we love to infuse gin, bourbon, rye, tequila and even sake. Your imagination is the only limit. Let us know your favorite liquor infusion in the comments below!
Want to read more from HuffPost Taste? Follow us on Twitter, Facebook, Pinterest and Tumblr.
PHOTO GALLERY
Savory Infused Liquor Ideas
BEFORE YOU GO