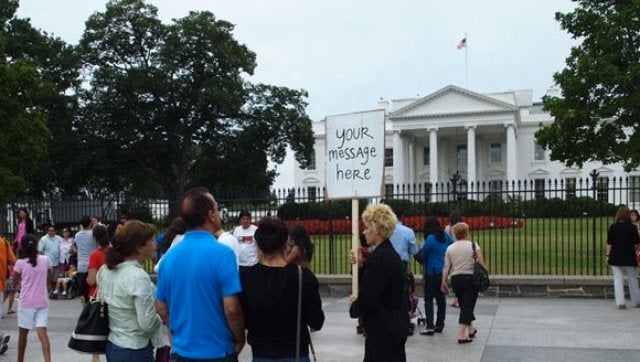 She'll march on Pennsylvania Avenue in front of the executive mansion holding a sign that proclaims just about anything "with the exception of ones that I feel are hate speech," she says. "Which is very few so far."
Squires has marched once so far -- on Nov. 1, just before Election Day -- holding dozens of placards, each with messages like "POLITICS SUCK," "NOBODY WILL EVER READ THIS," "equality for all. That is why I am supporting OBAMA!" and "FREE HUGS."
"No one stopped me for a hug," says Squires. "Some people are definitely speaking to the government. And I think some people are broadly interpreting the prompt and using the piece as a platform for their own messages."
PHOTO GALLERY
Personal Service Announcement
Squires has a background in labor organizing and devised "Personal Service Announcement" as as way "to use art as a tool to push thinking on how we feel we have access to the government. Or don't have access," she says.
The project isn't itself political, Squires says, but is, rather, an art piece designed to make viewers question their assumptions about what makes something political.
Me: "Well, what counts as protest language?"

Police: "They don't tell us that."

Me: "So because these look like protest signs, regardless of what they say, I won't get harassed by the Secret Service if I walk in the street right next to the sidewalk?"

Police: "Correct."

I decided, in the moment, to march in the street, right next to the sidewalk. But I'm definitely thinking about all the questions this conversation brings to light and potentially making a different choice at the next two marches.
"I wanted the timeline of the whole project to run from pre-election to pre-inauguration," Squires says. "There is so much sex appeal around presidential elections, even though really, being engaged is ideally an everyday thing, not a once-every-four-years thing."
BEFORE YOU GO