At what point does Rajon Rondo transfer his anger from Kris Humphries to Kevin Garnett? Or will the Boston Celtics' point guard just be upset with himself after he sees a replay of the ruction under the rim that resulted in his ejection during a game against the Nets and cost him a record that he's been chasing for months?
With the Celtics trailing, 51-35, late in the second quarter on Wednesday night, Rondo reacted to a foul on Kevin Garnett committed by Nets forward Kris Humphries by instigating a brief scuffle. Although replays (and this lovely SB Nation GIF) suggest that Garnett may have flopped after absorbing contact from Humphries on a drive into the paint, Rondo only saw his teammate hit the floor. He heaved Humphries back under the rim. Teammates from both sides rushed toward the shoving match and the scrum spilled into the seats. When the referees finally settled everything down, Rondo, Humphries and Gerald Wallace were all ejected from the game.
"Rondo initiated everything that proceeded after the foul," referee James Capers said in a post-game statement, via Boston.com. "And when he and Humphries go into the stands, they are involved in a fight. Fighting is an automatic ejection."
WATCH VIDEO ABOVE
Whether it was a flop or a hard foul that sent KG to the parquet floor, Rondo's reaction snapped his streak of 37 consecutive games with at least 10 assists. Rondo's streak is tied for 2nd on the all-time with John Stockton. The team had made no secret that he was chasing Magic Johnson's record of 46 games with double-digit dimes. During a blowout loss to Detroit Pistons earlier this season, Celtics coach Doc Rivers admitted that he put Rondo back into a game just to keep the streak going.
After this game, Humphries took one last shot at Rondo via Twitter and showed off the scratches that he picked up. He tweeted "Anyone know where I can get a quick Tetnis shot in Boston?" and shared a link to an image of the shoulder.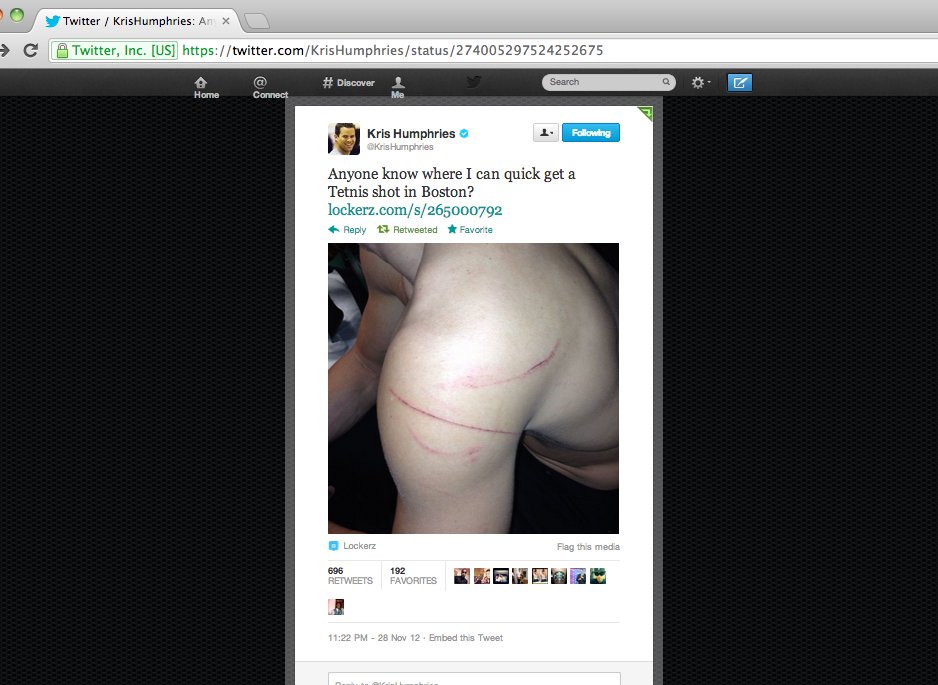 CLICK HERE to see full-size image.
In the other locker room, Rivers didn't find his team's display particularly rabid or respectable. Perhaps most damning, he didn't think there was anything tough about what went down.
"If I'm Brooklyn and the league, you've got to think we're pretty soft, the way we're playing," Rivers said. "We're a soft team right now. We have no toughness, and that stuff's not toughness. All that stuff, that's not toughness."
WATCH: Doc Rivers rips "soft" Celtics after loss to Nets.
BEFORE YOU GO
PHOTO GALLERY
Memorable Sports Brawls