WASHINGTON -- A bipartisan group of legislators said Wednesday that the failure to expand a critical subsidy for renewable energy could cost Americans tens of thousands of manufacturing and construction jobs.
Sens. Mark Udall (D-Colo.) and Chuck Grassley (R-Iowa) and Reps. Jerry McNerney (D-Calif.) and Steve King (R-Iowa) released a petition signed by 3,500 veterans across the country, hundreds of whom have found post-military work in the wind energy industry, urging Congress to extend the wind production tax credit (PTC).
"Already over the past several months we've seen the real-life effects of Congress' failure to quickly extend what is a common sense tax credit," Udall told reporters at the Capitol.
While the credit may well be included in fiscal cliff negotiations, he said, it could also be introduced as a standalone bill.
The PTC subsidizes new wind generation by 2.2 cents per kilowatt-hour of wind electricity produced, significantly below the price of air pollution damages caused by coal plants. Unless Congress acts to renew it, the credit will expire at the end of this year killing an estimated 37,000 jobs, according to a study by Navigant Consulting.
Indeed, the looming threat of expiration already is making it difficult for developers to plan after 2012, and wind companies are pushing back projects and laying off workers. In Ohio, a wind developer announced plans to scrap a $20 million project that would have employed 200 construction workers; in Pennsylvania, a turbine manufacturer furloughed 165 workers; and in Arkansas, Mitsubishi Heavy named the uncertainty of federal funding as a central reason to not build a $100 million production facility.
There's considerable precedent for such downsizings. A new chart provided by the U.S. Energy Information Administration shows how the sporadic lapses of the federal credit have spurred the industry's boom-and-bust cycles: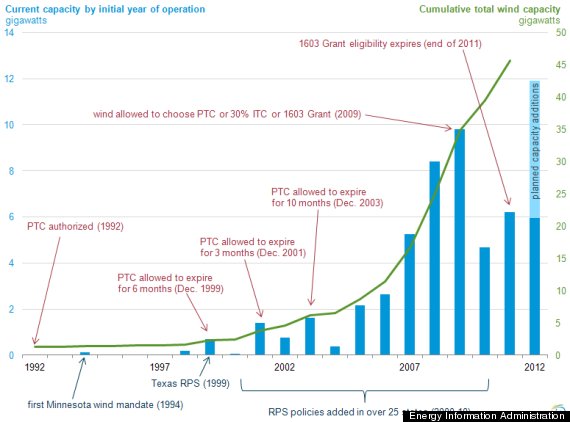 "People have to plan, know what policies are out there and make plans accordingly," said Grassley, whose home state of Iowa is a top producer of wind energy. "As much energy as possible -- both nonrenewable and renewable -- should be produced at home to create jobs and strengthen our national security. It's stupid to be importing as much oil as we do and spending as much as we do and shipping those dollars overseas to do harm in some ways to our national security."
The wind industry currently supports about 75,000 jobs, according to the American Wind Energy Association -- most of them in Texas, Iowa and other Midwest states that typically vote Republican. It's little wonder then that the subsidy, which was first enacted in 1992 under President George H. W. Bush, has garnered support from outspoken conservatives like Grassley, King and Karl Rove.
The Senate has already passed a proposal for a one-year extension of the tax credit that will cost $12.1 billion over a decade.
The press conference is part of a two-day fly-in during which veterans will meet with legislators from their home states to discuss the importance of extending the federal credit.