Captain Ahab spent years chasing the white whale Moby Dick around the world -- and (spoiler alert!) didn't even manage to catch him in the end. Meanwhile, when 30-year-old fisherman Marc Towers set to work trying to catch a gigantic bluefin tuna earlier this week off the coast of Nova Scotia, it took him only two hours to get it on his boat.
The tuna ended up weighing 1000 pounds -- half a ton. Pete Thomas of GrindTV.com noted that this falls well short of the record 1496-pounder caught by Ken Fraser in 1979. But according to The Daily Mail, it's big enough that it will likely fetch more than $30,000 when it's sold in Japan -- and that it will eventually yield about 20,000 individual pieces of tuna.
Here's a photo of Towers with his mondo fish, taken from his Facebook page: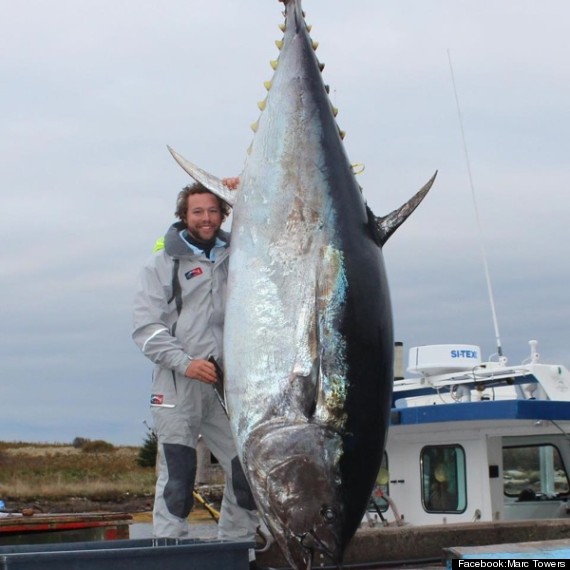 Some commenters online have criticized Towers for selling the tuna, arguing that bluefin tuna "balances on the extremely thin line of extinction."
We're certainly sympathetic to those arguments at HuffPost Food and are concerned about the state of wild bluefin tuna. But it's also worth noting that a recent assessment of the bluefin tuna population in the Atlantic showed some promising signs of recovery -- and that even a 1000-pound tuna is a drop in the bucket of the 13,500 metric tons that the International Commission for the Conservation of Atlantic Tunas has set as the quota for the annual catch. Most bluefin tuna are caught by a process called purse-seining, which involves large nets, rather than by angling using a fishing pole, which is what Towers did.
BEFORE YOU GO
PHOTO GALLERY
Threatened Fish and Shellfish