Believe it or not, the ukulele has been making a lot of noise lately. Last month we featured the hilarious Ukulele Orchestra of Great Britain, which performs rock hits like "Smells Like Teen Spirit." Today we present Jake Shimabukuro, ukulele player extraordinaire.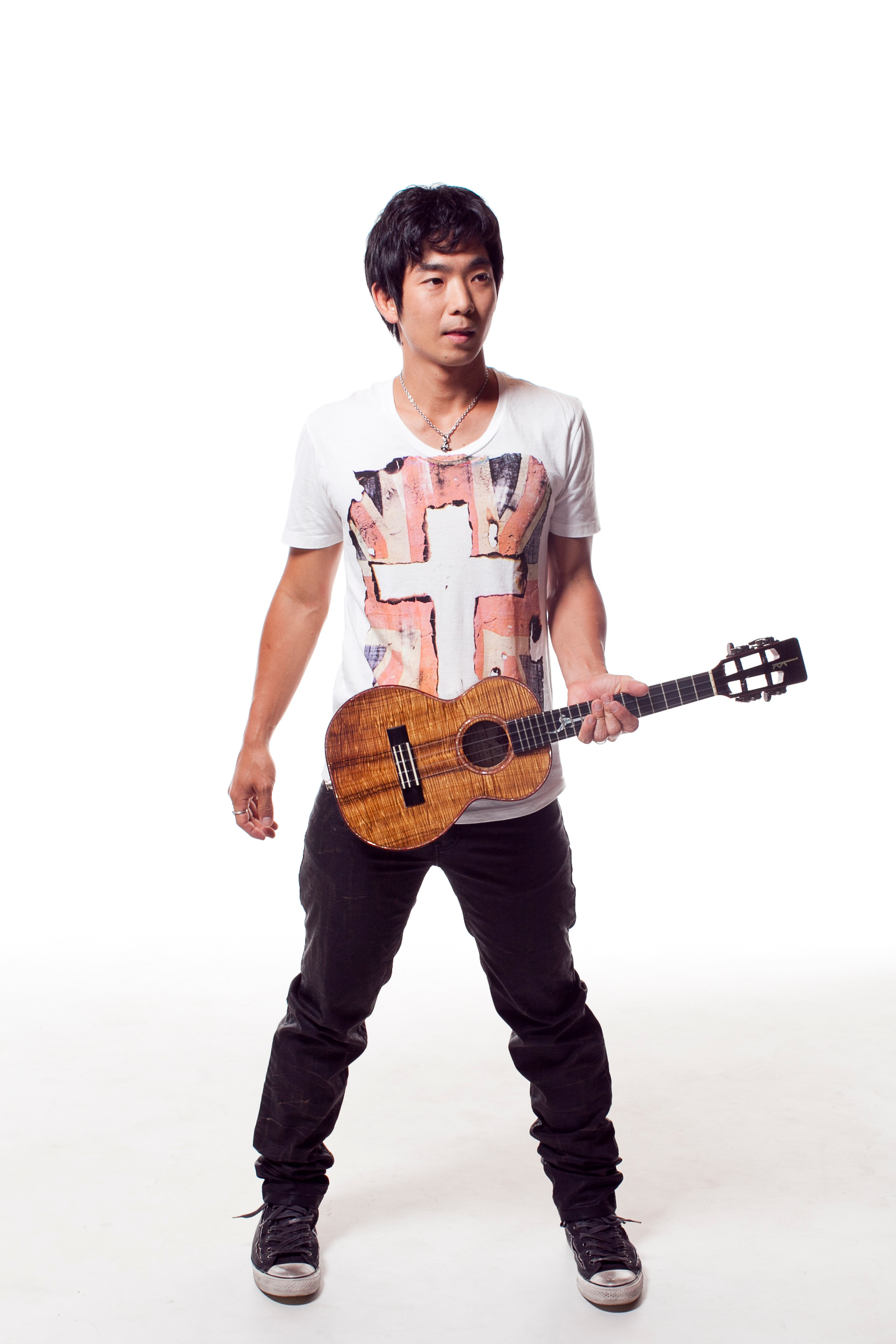 Jake Shimabukuro
Shimabukuro has a fan base that stretches from the likes of Eddie Vedder, Perez Hilton and Dr. Sanjay Gupta, probably because the "Ukulele Wizard" has garnered comparisons to Jimi Hendrix and Miles Davis. He transforms the tiny instrument into a million different musical forms, dexterously playing jazz, rock, classical, traditional Hawaiian music, and folk all on a humble ukulele.
In recent months, the artist tackled Adele's hit, "Rolling in the Deep," which must be heard to be believed. His newest album, "Grand Ukulele" is a follow-up to his 2011 "Peace, Love, Ukulele" which debuted at #1 on Billboard's World Charts. Following the release of "Grand Ukulele," Shimabukuro has set off on a national tour which wraps up in September 2013.
From his beautiful cover of "While My Guitar Gently Weeps" to his versatile "143 (Kelly's song) 2011," Shimabukuro is a musician to watch. To echo Eddie Vedder: "Jake is taking the instrument to a place that I can't see anybody else catching up with."
Catch Shimabukuro in action on November 30 at NYU Skirball Center in New York City. In the meantime, take a look through the video slideshow below to see more clips of Shimabukuro in performance and scroll down for an interview with the performer.
PHOTO GALLERY
Jake Shimabukuro on Ukulele
HP: Who are your ukulele heroes, and why aren't there any big uke stars in popular culture?
JS: Most of my ukulele heroes were traditional players from Hawaii, like Eddie Kamae and Ohta-san. There may not be uke stars in popular culture, but there are certainly pop stars that play uke -- George Harrison, Eddie Vedder, Taylor Swift, Train, and Paul McCartney.
HP: What made you decide to cover songs like "Thriller" and "Rolling in the Deep"?
JS: I like covering songs that people wouldn't expect to hear on the ukulele. I arranged "Thriller" a few years ago, when it was the 25th anniversary of Michael Jackson's iconic album. "Rolling In The Deep" was a special request from Perez Hilton about a year ago.
HP: What's a song you'd love to cover but haven't yet?
JS: The entire B side to Abbey Road would be pretty sweet.
HP: Similar question: What musical genre have you not yet explored and what intimidates you, musically or otherwise?
JS: I find most styles of music to be intimidating. The only genre that I feel completely comfortable playing is Hawaiian music, since that's what I grew up playing. Classical music presents some of the world's most challenging pieces. Jazz is an art that takes decades to appreciate and understand. Blues, rock and hip hop are more about a lifestyle and culture than notes on a page. Whenever I venture into a different style of music, I always try to respect the roots of the music and the players of that genre.