The inquiring minds at NetBase, who previously enlightened us with news that candy corn was this year's most buzzed about Halloween candy, have new insights into American palates.
In a recent social media analysis on American burger-eating habits, NetBase found that Wendy's dominated online burger chatter with a whopping 36 percent of the overall buzz. Sonic garnered less conversation, but more of that talk was positive -- 83 percent compared to Wendy's 78 percent.
Devotion for White Castle, despite inspiring a series of films in past years, seems to have dulled according to NetBase. It came out as least loved of the seven brands the research firm analyzed, with only 71 percent positive online talk.
Other burgers in the study included McDonald's Big Mac and Burger King's Whopper, plus burgers from In-N-Out and Five Guys.
Take a look at the below infographic to see how the brands stacked up.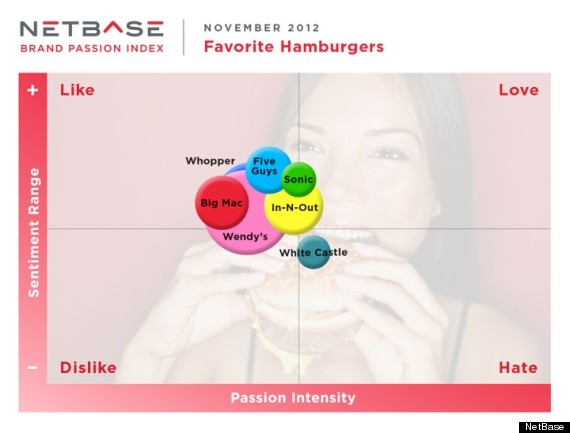 BEFORE YOU GO
PHOTO GALLERY
Over The Top Burgers