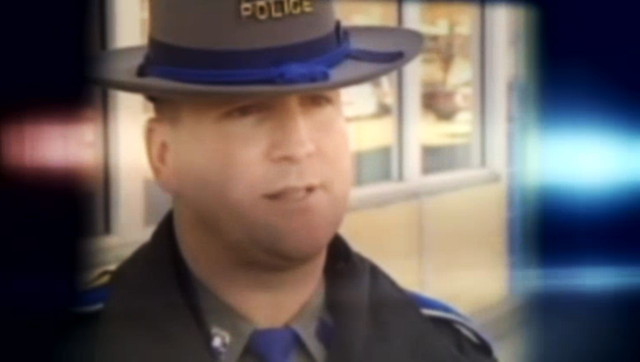 A Connecticut state trooper is accused of stealing $3,000 worth of jewelry and cash from a man who was killed in a motorcycle accident.
Trooper Aaron Huntsman, 43, was arrested Thursday and charged with two counts of third-degree larceny, the Associated Press reports. He also faces charges of interfering with police and tampering with or fabricating physical evidence, according to Bethwood Patch.
Motorcyclist John Scalesse, 49, died in the accident last September, when he hit the back of a truck with his bike. according to CT Now. Huntsman, who was based out of a Bridgeport, Conn. troop, was among the emergency workers who investigated the crash scene.
After the accident, Scalesse's family reported to police that some clothing, as well jewelry and cash belonging to Scalesse was missing. They ultimately located the clothing, but could not find the jewelry or cash.
Police investigated and found the missing jewelry, which they say Huntsman had not logged into evidence. They also say they found a large amount of cash in Huntsman's police car.
Huntsman is an 18-year veteran of the state police force. His arraignment is scheduled for Dec. 10.
BEFORE YOU GO