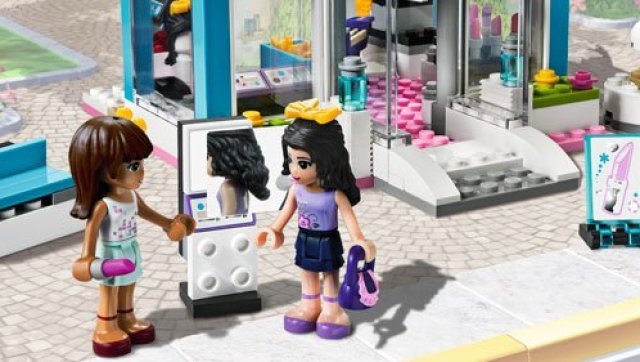 Trying to narrow down your Christmas list? The Campaign for a Commercial-Free Childhood might be able to help. The organization has just named its contenders for the "worst toy" of 2012.
This is the TOADY -- or "Toys Oppressive And Destructive to Young Children" -- Award's fourth year, and the clear theme to the organization's 2012 picks is a focus on toys that promote screen time. Three out of five nominees incorporate screen or tablet devices.
In a press release, the organization's director, Dr. Susan Linn, explained: "Just because we can link a toy to a smartphone doesn't mean we should. The toy industry is promoting superficial gadgetry at the expense of children's creativity."
This year's full list includes the LEGO Friends Butterfly Beauty Shop ("jam-packed with condescending stereotypes"), Physical Apps's TheO ball (an as-yet-unreleased, smartphone-incorporating foam ball for use in digital games), Jabberwocky Kids's Put Me In The Story App (which the CCFC says lets you "transform best selling children's stories into e-books starring your own child"), the Laugh & Learn Apptivity Monkey from Fisher Price ("the first stuffy with an iPhone in its belly") and a 7-11-branded Slurpee Maker machine.
Several winners have already generated controversy, with KJ Dell'Antonia of the New York Times's Motherlode blog writing that the LEGO Friends set "hardly" deserves a place on the CCFC's list.
LEGO fell foul of many fans -- including some who launched a petition against gender-based marketing -- when the "girly" Friends sets were introduced earlier this year.
"[N]ominating Lego Friends for its gender stereotyping calls into question the premise of the TOADY," Dell'Antonia writes, arguing that whether or not the product promotes stereotypes, it's still a valuable "building toy" -- and LEGO gender bias can swing both ways:
Until we're lining up every arguably gendered set in the Lego product line for examination, it's condescending to assume that young girls are any less capable of realizing that their Lego Beauty Shop doesn't mean they're only good for curling eyelashes, any more than Captain America suggests that boys are in for a lifetime of muscle flexing.
In past years, the TOADYs have spotlighted similar products. Last year's winner was a tablet designed for toddlers, and another past winner -- though perhaps a more extreme example of gender-marketing problems -- was a Dallas Cowboy Cheerleader Barbie.
The TOADY competition is a take-off on the Toy Industry Association's Toy of the Year Awards -- an annual competition that has more than 80 finalists this year, ranging from a light-up Cinderella dress to an Anteater-shaped bug vacuum.
No word yet on whether the industry's youngest watchdogs will have time to vote.
Vote between now and Dec. 5 on the CCFC's website here.
BEFORE YOU GO
PHOTO GALLERY
Brands That Have Been Updated To Be More "Girly"