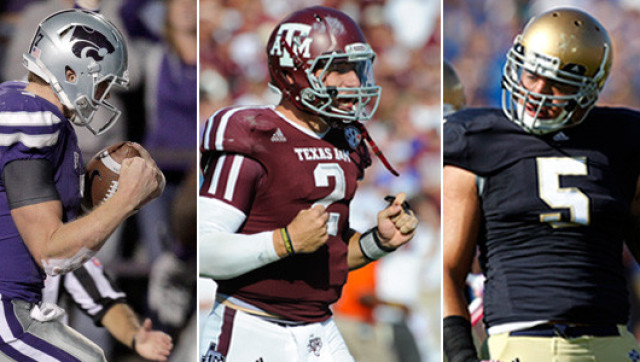 And then there were three.
The field of candidates for the 2012 Heisman Trophy was narrowed to a trio of finalists on Monday. To the surprise of no one who has followed college football in recent weeks, redshirt freshman phenom Johnny Manziel (or "Heismanziel," depending on who you ask), Notre Dame linebacker Manti Te'o and dual-threat Kansas State quarterback Collin Klein were finalists. The biggest surprise when the announcement was made during Sportscenter was that no additional invites were extended to Ohio State quarterback Braxton Miller, USC wide receiver Marqise Lee, Northern Illinois quarterback Jordan Lynch or any of the other potential finalists.
"It would be a dream come true for me to even be able to go to the Heisman ceremony, much less say a speech," Manziel told reporters, via The Washington Post, after Texas A&M wrapped up a 10-2 season that included a hallmark win over Alabama in Tuscaloosa.
If Manziel is able to say a speech then he'll be the first freshman ever to do so. Despite his youth and years of precedent, Manziel sat atop of the Heisman polls conducted by CBS and USA Today when the finalists were announced. Both polls had Te'o in the runner-up position. The highest previous finish by a freshman came in 2004 when Oklahoma running back Adrian Peterson came in second place to USC quarterback Matt Leinart.
According to the mission statement of the Heisman Trust, the trophy "annually recognizes the outstanding college football player whose performance best exhibits the pursuit of excellence with integrity." The 78th winner of the Heisman Trophy will be determined by 870 media voters, 57 previous winners and one "fan" vote (via a partnership with Nissan), per the official Heisman Trust website.
CLICK HERE to view a list of Heisman Trophy winners.
Here are some of the stats and highlights from the finalists' stellar 2012 seasons:
BEFORE YOU GO
PHOTO GALLERY
2012 Heisman Finalists