Less than a year after opening its doors, Jake's On Market, a restaurant in San Francisco's Castro district, officially closed for good. In announcing its closure, the owners posted an open letter on the location's website and front door.
In the note, Tim Travelstead and Brad Becker thanked their employees and regular customers, but also went out of their way to slam critics who posted negative, sometimes completely inaccurate, reviews of the late-night dining spot using the online review site Yelp.
The letter reads:
With much regret, Jake's on Market has closed. To our many regular customers, we are very grateful for the support you gave us in our desire to open a warm, neighborhood restaurant owned and operated by a family here in the Castro, for the residents of the Castro. I just wish there had been more of you. But we will always remember your kindness.

And for a small minority of people who rooted for our failure before we ever opened our doors because we weren't the same restaurant that had previously occupied this space, and which we had no connection to, well, we'll never forget you either. Reading reviews and ratings on Yelp such as, "I hated the color of their T-shirts, I'll never be back. I give them one star!" or being criticized for the taste of food that we have never even served at Jake's, was both amusing and demoralizing, not only to us as owners, but to our co-workers who put all of their efforts into giving each guest a great experience.

Lastly, we wanted to thank the wonderful people we got to know who worked with us both behind the scenes in the kitchen and in the front of the house serving you. Owning a restaurant is a 24-hour a day experience, and we couldn't have picked a nicer group of people to spend our time with. Life goes on, we'll continue to raise our family, and we wish all of you our very best wishes.

Sincerely, Brad and Tim.
Grubstreet notes that first-time restaurateurs Travelstead and Becker named the restaurant after their college-age son when they took over the space that used to house the restaurant 2223 in January.
Businesses all across the country have been complaining about Yelp reviews a for almost as long as the online review site has existed. Sites like the Tumblr blog &*%@ You Yelper aggregate some of the most annoying, inane and entitled Yelp reviews on the site.
Take a look at Jake's farewell letter below: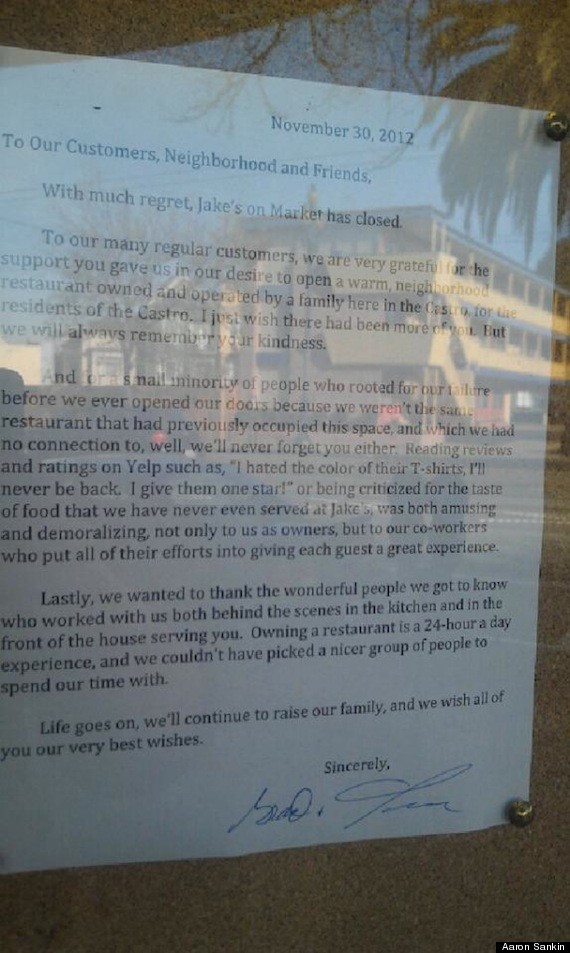 BEFORE YOU GO