At long last, the winner of the Turner Prize will be revealed tonight at 7:50 pm (GMT) by none other than "pretty boy" Jude Law, who was recently profiled in the New York Times Magazine. The hugely influential and oft-mocked art prize is awarded to a British artist under the age of 50 who is deemed responsible for having the best exhibition in the past year.
The winner will be announced on live TV at the Tate tonight, and will be awarded a prize of £25,000 ($40,000). Notable past nominees include Damien Hirst for his shark in formaldehyde, Tracy Emin for her disheveled bed and Jake and Dinos Chapman for their "subversive wit and black humour" in a show featuring mannequin sex and faux-ethnographic wooden sculptures.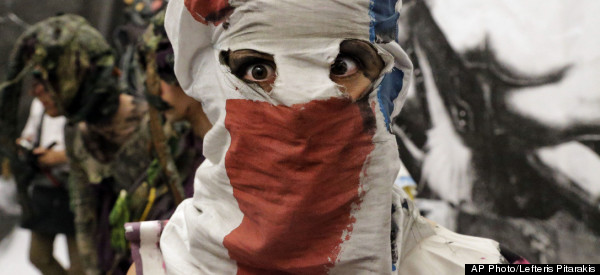 Performers take part in Spartacus Chetwynd's performance entitled "Odd Man Out 2011."
This year's nominees are Lali "Spartacus" Chetwynd, Luke Fowler, Paul Noble and Elizabeth Price. According to the BBC, Chetwynd, who is a giant Star Wars fan, changed her name to Spartacus on her 33rd birthday "to remind people they have a choice in life."
We've always enjoyed Chetwynd, whose interactive performance installations appear as a refreshing change from the interior focus of past winners. Last we heard, however, Noble is projected to win the title, and Elizabeth Price is the second favorite, the BBC reports.
UPDATE: Elizabeth Price has won the Turner Prize! See how it went down here.
In honor of the controversial award, check out 11 of the wildest moments in Turner history, from Banksy joining forces with a porn star in 2002 to Tracey Emin getting wild in the late '90s.
PHOTO GALLERY
11 Things You Didn't Know About The Turner Prize
See Chetwynd's work below and tune in tonight to see who wins the coveted title. Who are you rooting for, readers?
PHOTO GALLERY
Spartacus Chetwynd
BEFORE YOU GO