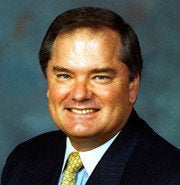 The former banker Governor Rick Scott installed as Florida's "jobs czar" has stepped down after it was revealed he previously received unemployment benefits during a period in which he took multiple trips to Europe.
Hunting Deutsch, who oversees the state's unemployment programs as executive director of Florida's Department of Economic Opportunity, resigned his $140,000-a-year position after just eight months in a letter to Gov. Scott Tuesday, The Associated Press reports.
Deutsch reportedly began receiving government benefits in 2009 after he was laid off from his executive position at BankUnited, where he was employed for 35 years. According to the AP, Deutsch also received a confidential severance from the bank, which failed that year and was seized by federal regulators.
The Florida Current first reported Deutsch nearly maxed out on more than $25,000 in government benefits paid at the maximum of $275 per week over 91 weeks between 2009 and 2011 -- a period during which he and his wife took multiple trips abroad despite a state law requiring unemployment recipients to be available to work.
"At the end of the day, I'm fortunate enough where I've worked for very successful companies for a long period of time and luckily sold all my bank stocks -- most of them at the right time, at the right price -- and quite frankly, didn't have to work," Deutsch told the Current in early November. "So my wife and I took time off and traveled a good bit; we were in Europe several times."
A state official told the AP Scott was unaware Deutsch had received unemployment.
"After working for 35 years and finding myself unemployed during a deep recession, going through the unemployment process has given me a sincere appreciation for those who are doing the difficult job of looking for work as well as for the dedicated professionals who administer the reemployment assistance program," he said, according to the AP report.
But because of administrative actions that continued under Deutsch's leadership, many labor groups charged Scott and his DEO have made obtaining unemployment unnecessarily difficult, earning the governor's "reemployment assistance" system the distinction of one the stingiest in the country.
"I think it's really troubling that [Deutsch] took full advantage of the program when he was able to, but then turns around and denies people who have lost everything the ability to go out there and put food on the table," Florida AFL-CIO lobbyist Rich Templin told the Current. "What the governor's changes have done is take something that was at the bottom of the barrel and driven it into the basement."
BEFORE YOU GO
PHOTO GALLERY
Rick Scott Controversies