Frank Ocean, the R&B standout of the year, is nominated for six awards at the 2013 Grammys. The Odd Future member and "Thinkin Bout You" singer lined up nods for Best New Artist, Record of the Year ("Thinkin Bout You"), Album of the Year ("channel ORANGE"), Best Urban Contemporary Album, Best Rap Sung Collaboration (with Kanye West and Jay-Z on "No Church in the Wild") and Best Short Form Music Video (for "No Church in the Wild").
That ties Ocean with Kanye West, Dan Auerbach of the Black Keys, fun., Jay-Z and Mumford & Sons, who each remarkable scored six nominations.
Ocean was heavily favored as a nominee for Best New Artist, much-deserved hype built on the strength of not only his debut studio album, "channel ORANGE," but also his earlier mixtapes (his self-released "nostalgia ULTRA" was rated one of the best albums of 2011). Come Feb. 10, 2013, Ocean could be among the more decorated musicians at the 55th Annual Grammy Awards.
Other artists who enjoyed a similar level of pre-nominations buzz included Mumford & Sons, whose "Babel" was expected to contend for Album of the Year against Ocean's disc.
While critics often gripe about the Grammys' somewhat peculiar way of picking nominees and awarding winners, the awards continue to live up to their motto, Music's Biggest Night. According to the Grammys, the award telecast attracted 39.9 million viewers last year -- the largest TV audience since 1984.
The nominations were announced during Tuesday's Grammy Nominations Concert Live!, a one-hour special that aired live from Nashville and was hosted by Taylor Swift and LL Cool J. As with the nominations, CBS will exclusively air the broadcast of the award show.
Photos from last year's show and our live blog of the nominations proceedings are available below.
PHOTO GALLERY
BEFORE YOU GO
Photos From The 2012 Grammys
PHOTO GALLERY
Photos From The 2012 Grammys
02/10/2013 11:44 PM EST
Good Night, Everyone!
The 55th annual Grammy Awards have come to a close. Dan Auerbach from The Black Keys was a big winner, but Frank Ocean, fun., Mumford & Sons, Kelly Clarkson and Kanye West & Jay-Z were all honored with Grammys.
From all of us here at HuffPost Entertainment, we hope you enjoyed the show. See you again on Feb. 24 for the 85th annual Academy Awards.
Here's Lena Dunham and Taylor Swift again, just because: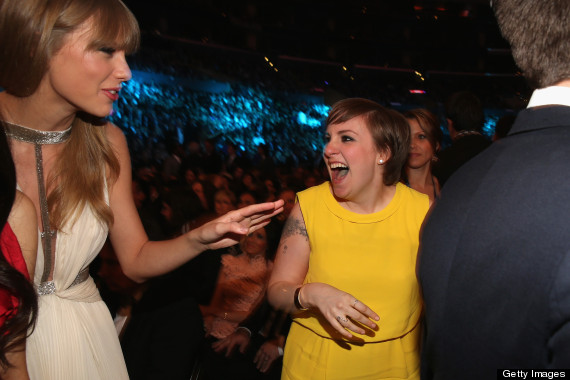 02/10/2013 11:34 PM EST
Good Notes
@ johannacox :

Not enough Beyonce and nowhere near enough Solange. #grammys
02/10/2013 11:33 PM EST
You've Got To Fight For Your Right To Delta
@ TVWithoutPity :

Wow, the closing #Grammys jam was bumrushed by sponsor shout-outs. Thought it was MCA forever, not commerce forever.
02/10/2013 11:30 PM EST
The Broadcast Is Over
LL Cool J gets cut off saying good night on the Grammys. Hashtag that, LL.
02/10/2013 11:28 PM EST
"MCA Forever!"
This amalgam of rockers and hip-hop stars perform "No Sleep Till Brooklyn" to honor the late MCA. CBS, however, cuts them off with an rundown of the night's sponsors. Classy.
02/10/2013 11:26 PM EST
Ladies Love Cool James
02/10/2013 11:25 PM EST
LL Cool J, Chuck D, Tom Morello, Travis Barker & More
Closing the Grammys in style.
02/10/2013 11:24 PM EST
Tonight, They Are Young
More on fun. Fun!
02/10/2013 11:22 PM EST
"Still To Come, I Take The Stage"
LL Cool J now making Grammys threats.