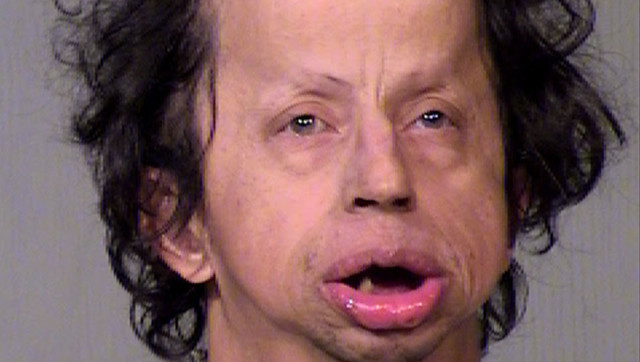 Jacob Isaiah Goff was arrested Dec. 4 in Maricopa County, Ariz., and charged with shoplifting and removal of goods, according to the Maricopa County Sheriff's Office.
It isn't the first time he's been arrested. Last year, Goff was arrested in Phoenix for fighting and disorderly conduct.
UPDATE -- Dec. 6: Multiple attempts by The Huffington Post reach the Maricopa County Sheriff's Office for comment about Goff went unreturned.
The MCSO posts mug shots of people arrested in the last three days on its website and encourages visitors to vote for the "Mug Shot of the Day." On Thursday afternoon, Goff had the most votes and was featured prominently on the page.
The Arizona county has made headlines for controversial reasons in recent years.
Maricopa County Sheriff Joe Arpaio drew national attention for tough policies that immigrants and Hispanic rights advocates say discriminate against them, although he's sought to make amends with the community after winning reelection in November, CNN notes.
CNet reports that "Mug Shot of the Day" was Sheriff Arpaio's initiative. While some publications scrutinized the practice, Arpaio and his supporters defended it.
"I'll make a deal with you. The minute your newspaper doesn't put the mug shots of all these 'innocent' people in the paper every day I will cut out all the mug shots," Arpaio told the Arizona Republic in 2011.
Maricopa County isn't the first sheriff's office in the United States to post mug shots on the Internet. For example, in Idaho, the Ada County Sheriff Office has maintained a daily arrest list with booking photos since 2003, in the hope that public embarrassment would act as an additional deterrent to crime, according to the Associated Press.
Earlier this year, AP reported that Ada County Sheriff Gary Raney considered pulling the mug shot gallery in light of shadow websites that had sprung up. Those sites post mug shots, which are public information, and charge people money for their removal.
"What we do serves a purpose. What they do is self-serving profiteering," Raney told the AP. "It's distasteful, extortion-like activity. That is not our intent at all."
Editor's Note: This story has been modified from its original version.
BEFORE YOU GO
PHOTO GALLERY
Dumb Criminals: Mugshot Gallery