It's a Grammys snub for Justin Bieber, whose name was noticeably not called out by Taylor Swift or LL Cool J at Wednesday night's Grammy Nominations Concert Live! on CBS.
Bieber, who released "Believe" this summer, an album that spawned radio hits like "Boyfriend" and "As Long As You Love Me," didn't make any public statements about the Grammy nominations, but his manager Scooter Braun did.
Over a series of tweets, Braun wrote that he felt the Bieber snub was out of line. "Grammy board u blew it on this one," he wrote in one tweet.
"He deserved to be recognized and I don't really have any kind nice positive things to say about a decision I don't agree with," commented Braun.
Check out his lengthy Twitter rant below.
Each year generally leaves music fans scratching their heads at at least one of the Grammys' decisions. Last year, Kanye West's "My Beautiful Dark Twisted Fantasy" was left off the list of nominees for album of the year -- despite being ranked near the top of every major publication's year-end lists (even Pitchfork gave it a rare perfect ten). West explained the omission during a mid-concert rant, arguing that he should have left more room between the solo album and "Watch the Throne," his collaboration with Jay-Z. "That's my fault for dropping 'Watch the Throne' and 'Dark Fantasy' in the same year," he said to a Chicago crowd. "But don't worry because me and Jay are going to keep making sh-t."
Both "Watch the Throne" and "Dark Fantasy" were nominated for Best Rap Album. The latter proved the winning ticket for West, who was the most nominated artist of the year and went home with a total of four awards.
It's worth noting that Taylor Swift's "RED" was not eligible for this year's Grammys. It was released after the cut-off for the awards, making Swift an easy choice as co-host for the Grammy Nominations Concert Live! and a sure favorite for the 2014 Awards.
The 55th Annual Grammy Awards will take place on Feb. 10 at Los Angeles' Staples Center. CBS will exclusively broadcast the show. Do you think TK was snubbed or deserved to be left out of the race? Weigh in in the comments.
Photos from last year's show and our live blog of the nominations proceedings are available below.
PHOTO GALLERY
2013 Grammy Nominees
02/10/2013 11:44 PM EST
Good Night, Everyone!
The 55th annual Grammy Awards have come to a close. Dan Auerbach from The Black Keys was a big winner, but Frank Ocean, fun., Mumford & Sons, Kelly Clarkson and Kanye West & Jay-Z were all honored with Grammys.
From all of us here at HuffPost Entertainment, we hope you enjoyed the show. See you again on Feb. 24 for the 85th annual Academy Awards.
Here's Lena Dunham and Taylor Swift again, just because: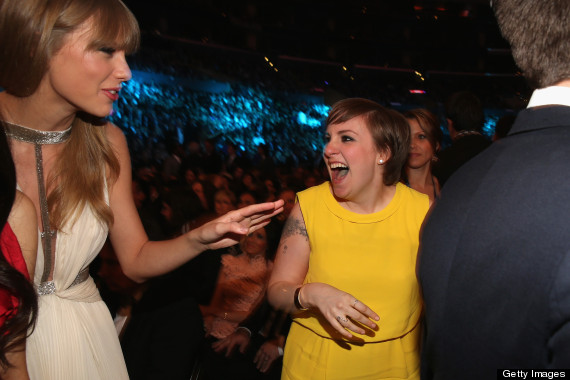 02/10/2013 11:34 PM EST
Good Notes
@ johannacox :

Not enough Beyonce and nowhere near enough Solange. #grammys
02/10/2013 11:33 PM EST
You've Got To Fight For Your Right To Delta
@ TVWithoutPity :

Wow, the closing #Grammys jam was bumrushed by sponsor shout-outs. Thought it was MCA forever, not commerce forever.
02/10/2013 11:30 PM EST
The Broadcast Is Over
LL Cool J gets cut off saying good night on the Grammys. Hashtag that, LL.
02/10/2013 11:28 PM EST
"MCA Forever!"
This amalgam of rockers and hip-hop stars perform "No Sleep Till Brooklyn" to honor the late MCA. CBS, however, cuts them off with an rundown of the night's sponsors. Classy.
02/10/2013 11:26 PM EST
Ladies Love Cool James
02/10/2013 11:25 PM EST
LL Cool J, Chuck D, Tom Morello, Travis Barker & More
Closing the Grammys in style.
02/10/2013 11:24 PM EST
Tonight, They Are Young
More on fun. Fun!
02/10/2013 11:22 PM EST
"Still To Come, I Take The Stage"
LL Cool J now making Grammys threats.
BEFORE YOU GO