It's been over 25 years since Russian ballet dancer Mikhail Baryshnikov defected to the West, leaving his Soviet motherland for the American art world. Misha has danced for George Balanchine, acted with Isabella Rossellini and sang with Liza Minnelli, to name only a few of his artistic fetes.
Now the established New Yorker is revealing yet another facet of his contemporary art life, in an exhibition of his private painting collection at ABA Gallery in New York. Assembled over the past four decades, Baryshnikov's personal archive spans the realm of 20th century art, including pieces from the Russian avant-garde moment. For the first time on tour, nearly 100 paintings will be on display at the exhibit, titled "The Art I've Lived With."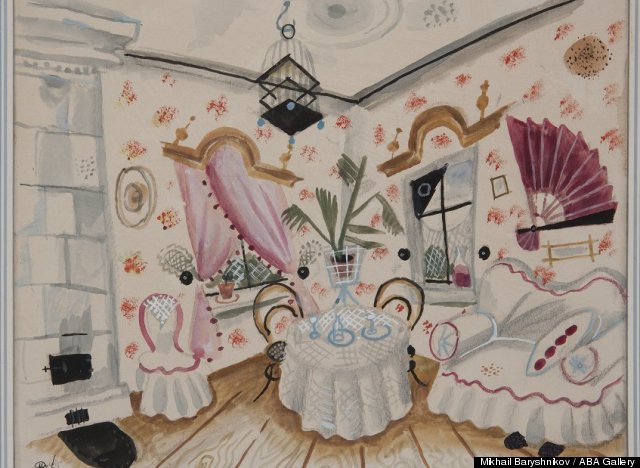 Mstislav Dobushinsky, Untitled, 1945, 9 ½ x 12 in.
"I never imagined that anyone would regard these works as a cohesive collection," Baryshnikov explained in an e-mail to The Huffington Post. "I didn't go to auctions and didn't accumulate based on scholarship or study like a proper collector. It was simply what caught my eye and what I could afford at any given time."
The array of artwork's loose theme is definitely performance art. The pieces that don't directly address the stage were often created by choreographers like Trisha Brown and Jerome Robbins.
"I won't call it collecting but more following the impulse to surround myself with images related to dance and theater -- images evoking the world where I felt most comfortable," Baryshnikov writes.
The exhibit is on view at ABA Gallery until December 15. Scroll through the slideshow below to see a preview of "The Art I've Lived With" and let us know what you think of the collection in the comments section.
PHOTO GALLERY
"The Art I've Lived With" - Pieces From Mikhail Baryshnikov's Private Collection
BEFORE YOU GO