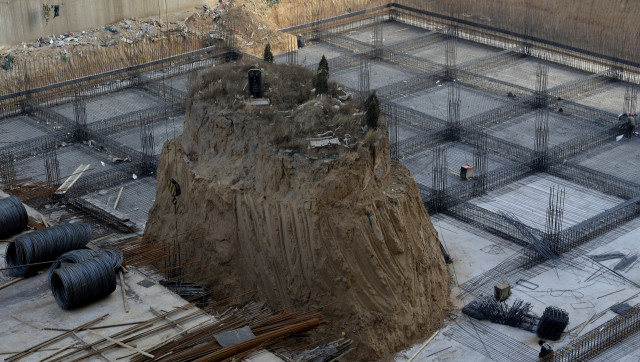 A dispute between a property developer and the relatives of a person whose grave sits in the middle of a construction site has resulted in a very strange sight.
Villagers were paid to move the remains of their loved ones from the cemetery to make way for construction. However, one family, who were reportedly unhappy with the level of relocation compensation offered, refused. The sole grave now remains on a mound of earth, 10 meters up in the sky, as construction takes place around it. Britain's Daily Mail reports the tomb is the ancestral grave of a villager from nearby Longbao.
The Sun newspaper reports that developers are now offering to pay nearly £100,000 ($160,675) to get the grave, complete with headstone, moved.
The 'nail grave' as it is being referred to by Asian media outlets, is the latest in a series of acts of resistance against land dispossession from Chinese people. Other examples have seen a freeway constructed around a lone house, and a lone house left standing on a mound in the middle of a construction site.
BEFORE YOU GO
PHOTO GALLERY
Lone Graves In Middle Of Construction Site